Recipe of Snake Gourd Dry Fry

Do you know how healthy Snake gourd is? Are you looking for the recipe of the dishes made with snake gourd? Here, I have given the recipe of Snake Gourd Stir Fry. Try this out as it really helps in reducing your body weight.


Snake Gourd Dry Fry

Snake Gourd, sometimes known as Serpent Gourd is a common vegetable seen in South India. Keralites normally use this vegetable to prepare dishes such as sambar, avial etc. Snake Gourd belongs to the cucumber family and has great water content in it which makes it a healthy dish especially during summer season. As it is free from fats, people who are on a plan to diet can also include this vegetable in their daily menu. It is so rich in fiber content, calcium and iron. On the whole it is a good vegetable to fight the summer heat and to remain healthy.

Snake Gourd has a soft sweetish flesh which makes it easy to cook and tasty as well. Now, here I am presenting before you a recipe which can be made with this long and wonderful piece of vegetable. This dish can be either named as Snake Gourd Dry Fry or as Snake Gourd Stir Fry. Whatever be the name, it is a yummy dish to enjoy your meals. Let us look at the ingredients and procedure of preparation which is mentioned below.


Ingredients

Snake Gourd Dry Fry is an easy to prepare dish which can be made with minimal ingredients. Most of the ingredients will be available home, hence you definitely can try this out.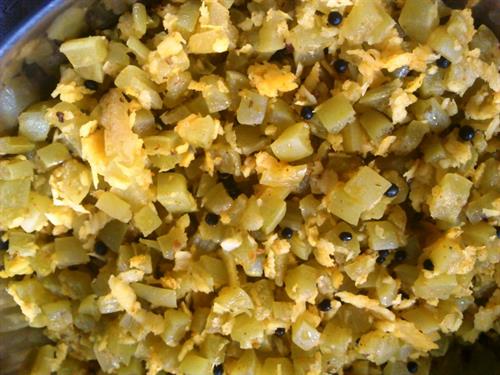 Snake Gourd : 1 No (Medium Sized One)
Onion (Sabola) : 2 Nos
Garlic : 2 - 3 Cloves
Green Chili : 2 - 3 Nos
Cumin Powder (Jeerakam) : 1/2 Tsp
Turmeric Powder : 1/4 Tsp
Chili Powder : 1/2 Tsp
Salt : To Taste
Water : 1/4 Cup
Grated Coconut : 1/2 Cup

For seasoning
Mustard Seeds : 1 Tsp
Curry Leaves : 2 Sprigs
Dried Red Chili : 2 Nos
Cooking Oil : 2 Tsp


Method of Preparation
Gently scrap the outer skin of snake gourd and cut it into three or four big pieces (cylindrical in shape). Now cut through the middle of each piece so as to remove the soft encasing inside with seeds. Wash each piece thoroughly under running water and chop them into small cubes of equal sizes.


Take a pan and heat oil in it. Splutter the mustard seeds and then add the curry leaves and dried red chilly to it. Now add the chopped garlic pieces into the pan and saute for few minutes until the raw smell of garlic leaves. Then add the chopped onions.


Once the onion becomes transparent add the chopped snake gourd along with green chilly into it and saute well. Close the lid and allow it to cook for few minutes. In between, take off the lid and saute so that every side of the pieces will be cooked well. Continue this process until the vegetable is almost cooked.


Meanwhile take the mixer and grind the grated coconut along with turmeric powder, cumin powder and chili powder. You may add little water but do not make it into paste or grind it thoroughly well.


When the vegetable is almost cooked, add the mixture along with salt and saute well. Again close the lid and allow it to cook. Normally snake gourd do not need water to get cooked as it has water content in it and needs less cooking time too. If required you can sprinkle water to get it cooked well.


Once it is cooked well check the salt and add if you require more. Then off the flame and serve hot as a side dish along with rice. You may garnish the dish with curry leaves or dried red chilies.
Points to be noted
Be very careful while adding salt as there is no option to reduce the salt if you have added more of it. As the vegetable has water content in it, it is better to add salt once it is half cooked.


You may avoid using garlic, if you have a string dislike towards it. But adding garlic gives a different odor to the dish.


To make your cooking process much easier, you can get the snake gourd steamed in the microwave oven. Meanwhile you may complete the other process and finally you just have to mix everything together. But do the mixing when it is hot itself.


You can include this dish in your daily diet as the vegetable is fat free and the preparation requires only 2 Tsps of oil. The presence of fiber wards off constipation with ease.