Recipe of Ully Curry - An easy to prepare dish

Recipe of Ully Curry, an easy to prepare dish details are given here. Red onions are quite familiar to one and all. Here through this article I am giving you an easy recipe which can be prepared with red onions and tomatoes. Kindly go through it and try it out yourself.


Introduction

First of all let me tell you that this is an easy to prepared dish which you can rely upon during emergency situations. Another important factor is that you need not have any other side dishes if you have this delicious Ully curry. It was one of my friend who taught me to make this dish. Ever since then I and family is in love with dish, I am sure you too will like it. Ully curry needs minimal ingredients which you will understand when going through the ingredients section below.


Ully Curry

We know that onions are a good source of vitamin C and they have lot of fiber content in them. These red onions have anti-fungal, anti-bacterial, and anti-inflammatory properties. Tomatoes are rich in Vitamin C, K and A. It also helps to keep our skin less sensitive and to have strong bones. Therefore this dish is no doubt a healthy dish. Another advantage is that when you are facing scarcity of vegetables at home, you can make this dish immediately as you just have to have tomatoes and red onions. In short, Ully curry is a quick to make, less expensive and tasty dish. What more do you want! Speed up and try this dish quickly.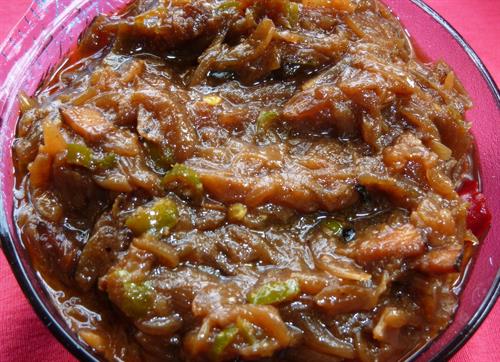 Ingredients

Onion (Sabola) : 3 - 4 Nos (Medium Sized)
Green Chilly : 3 Nos
Garlic : 3 - 4 Cloves
Curry Leaves : 2 Sprigs
Tomato : 1 No (Ripe)
Turmeric Powder : 1/4 Tsp
Chilli Powder : 1 Tsp
Curry Masala Powder : 2 Tsp
Salt : To Taste
Water : 1/4 Cup
Cooking Oil : 3 Table Spoon


Method of Preparation
First clean the red onions, garlic cloves, curry leaves and green chilly. Finely chop these and keep it aside.


Take a pan, preferably non stick pan and heat oil in it. Once the oil is boiled, add these chopped vegetables into it and saute well. Add required amount of salt into it and saute once again.


Close the lid and allow it to cook under low flame. As onions have water content in it, you need not add water at this stage. In regular intervals just saute the onions so that every side will be cooked well.


Meanwhile wash the tomato and chop it into fine pieces, so that it will be easily cooked up.


Once the onions become transparent and when garlic's raw odor vanishes, add the chopped tomato into it. Close the lid again and allow it to cook for 5 minutes.


Now open the lid, you can see that the tomatoes are been cooked well and is jelled with the onions. You may just mix well so that the tomatoes get mashed up.


Add turmeric powder, curry powder and chili powder to it and mix well for 2 minutes.


Now you can add 1/4 cup water to it and check the salt. If required, add more salt and close the lid and allow the dish to boil. Once boiled well, off the flame and serve hot along with rice, rotis or chapatis.


You may garnish the dish by placing a tomato rose in the center or by keeping a curry leaf sprig on top of the dish.
Tips to be noted
Salt is added in the initial stage as it helps the onion to become translucent easily.


You may also add ginger if required. In that case, please reduce the quantity of chili powder used.


I normally use Eastern curry powder to make Ully curry and my dish turns out to be really good. You can try other curry powder brands as well.


If you like the sour taste, add more tomatoes, but do not add more than two tomatoes.


It is better to heat the masalas before adding it into the dish. It gives a better taste and flavor to the dish.


This dish tastes well if it is made dry, you may also add more water to it if you do not prefer thick gravy.