Onam Special Vellarikka Pachadi Recipe

Recipe of Kerala style Vellarika Pachadi is given below. As it is Onam season now, many of the youngsters who are jsut into cooking will be looking out for easy to make dishes to make their Onam fabulous. To add to it, here I thought of posting this easy and yummy dish. Have a loot at it and give it a try. You surely will love it.


Vellarika Pachadi

Vellarika Pachadi is a common dish prepared in Kerala during any festival season. It is an inseparable part of Onam celebration too. It is a pure vegetarian dish which has lot of health benefits attached to it. Moreover the dish is very simple and easy to make with minimal ingredients. Preparing this dish helps to add to the number of your side dishes during this festive occasion. It is also a good choice to be tried out during busy occasions as well. Let us look into the details of making this yummy dish.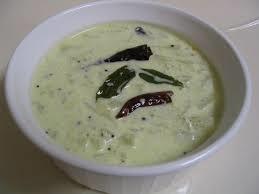 Ingredients for Vellarika Pachadi

Vellarika (Cucumber) - 1 No (medium Size)
Green chilly - 3 Nos
Grated coconut - 1/4 Cup
Cumin Powder - 1/2 Tsp
Curd - 1 cup (preferably with a high sour taste)
Salt - To Taste
Mustard seeds - 1/4 Tsp
Curry leaves - 2 Sprigs
Dried Red Chilly - 2 Nos
Coconut Oil - 1 Tblsp
Water : 1/4 Cup


Method of Preparation
Peel the skin of Vellarika and cut into small cubes. Remove the inner soft part with seeds. Wash it thoroughly and finely chop it into small pieces of equal sizes.


Now a take a vessel, pour water into it and add the chopped Vellarika to it. Allow it to cook for few minutes with the lid closed.


It is recommended to add little salt at this stage as it helps the vegetable to absorb the salt well.


Meanwhile grind the grated coconut, green chilly and cumin powder by adding little water to it. Once the paste is made, keep it aside and allow the vegetable to cook.


When the Vellarika is half cooked, add the paste to it and mix well. Again allow it to cook.


Take another pan and pour oil into it. Splutter the mustard seeds and add the curry leaves and dried red chilly into it.


By this time your Vellarika will be coked well, add the seasoning to it and allow it to cool.


Once cool, add the curd to it and mix well. Taste it and add salt if required. Vellarika Pachadi is ready to be served.
Conclusion

Velalrika Pachadi is a must try and it will be definitely liked by the children in the house. You may also make Pavakka (Bitter Gourd) pachadi, Pineapple pachadi etc in the same way. One thing to be noted is that, for Pineapple pachadi you may add little turmeric powder to enhance the color of the dish. In the case of Pavakka pachadi, you may first cook the pavakka pieces and then drain off the water to get rid off its high bitter taste. The peculiarity of these three types of pachadis is that all these taste different because of the varied taste of the vegetables or the fruit used in it. Hence you can make all the three for you lunch on Onam day.