Onam movies 2014 in malayalam TV Channels: Complete schedule

Onam movies 2014 in malayalam TV channels complete list of schedule are given here. Onam special movies 2014 in malayalam TV channels like Surya TV, Asianet, Asianet Movies, Mazhavil Manorama, Amrita TV, Kiran TV and Kairali TV will make this festive season more interesting. Read more to know about the Onam movies 2014 telecast in malayalam TV channels.


As the Onam festive season is to kick start, major malayalam channels are gearing up to entertain the mass audience. Being the biggest festival of Kerala, Onam is widely celebrated with pomp and vigor. Viewers can expect innovative and inventive programmes with artistic perfection during the 10 days of Onam.

Channels are planning to air nonstop entertainment activities which include celebrity chat shows, music and comedy skits to keep the audience intact. Being a festival of joy, wealth and fulfillment, popular channels will be premiering a slew of blockbusters during this Onam. Asianet, Mazhavil Manorama, Surya TV, Amrita TV, Asianet Movies, Kiran TV and Kairali TV are in the forefront to unveil newly released movies from their library. Take a sneak preview into the movies to be telecast by major channels.


Asianet Onam 2014 malayalam movies

Asianet is all set to broadcast a wide range of programmes and premiere movies during this Onam. 10 malayalam movies including blockbuster movie 'Drishyam' will deliver a visual treat for the moviegoers. In the world premiere show, movies like Drishyam, Oru Indian Pranayakadha, Om Shanthi Oshana, Onnum Mindathe, Salala Mobiles and Mannar Mathai Speaking would entertain the spectators. Pullipuliyum Aatinkuttiyum, Sringaravelan, Nadodi Mannan, Philips and The Monkey Pen will be followed in the later days.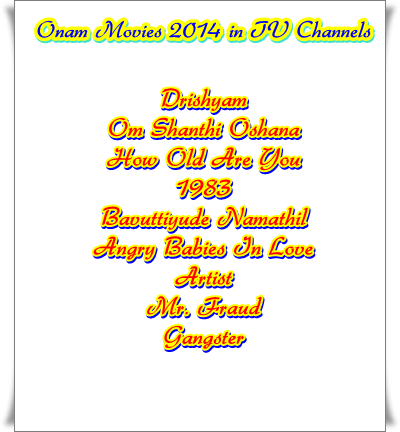 Surya TV 2014 onam special movies

Surya TV which has grabbed some interesting movies will reveal a dozen among them during this Onam. The channel would broadcast three super hit movies 'How Old Are You', 'Punyalan Agarbathis' and '1983'. Movies like 'Nadan', 'Silence', 'Ezhu Sundara Rathrikal' and 'Police Maman' are also in the line. Much interestingly, few tamil super hits are also expected to be aired by Surya TV. 'How Old Are You' which marked the comeback of actress Manu Warrier, received grand reception from the box office. The movie which focused on patriarchal society's fixation attaching gender and age definite stereotypes to women truly won the hearts of the viewers.


Kiran TV 2014 Onam special movies

Kiran TV, a subsidiary of Sun Network is also a frontrunner in premiering Onam special movies. Kiran TV would unveil 5 malayalam movies during the Onam week which include 'Olipporu', 'Rose Guitarinaal', '10:30 AM Local' Call,' Housefull' and 'Bavuttiyude Namathil'. Dubbed versions of Telugu hits Gajapokkiri and Choodan would also be telecast while tamil movies Biriyani, Enthiran, Thalaivaa and Singham would make this Onam delightful.


Amrita TV Onam 2014 special movies

Amrita TV is all set to take on the other prominent channels by making this Onam season more colourful. The channel which has already earned the exclusive television rights of Mohanlal movies will telecast few new movies from their library. Amrita TV will premiere movies like 'Good Bad & Ugly' (ii) 'Angry Babies In Love', 'Artist', 'Mr. Fraud' and 'Polytechnic', 'Parayan Bhakki Vechathu', 'Madirasi', 'Up & Down Mukalil Oralundu' and 'Kadhaveedu'.


Kairali TV Onam 2014 special movies

Kairali TV would also entertain the small screen viewers during the 10 day Onam extravaganza with a bunch of interesting programmes. Kairali TV will be premiering 2 malayalam movies and 2 tamil movies in 2014. The worldwide premieres include 'Gangster', 'Pattam Pole' and dubbed versions of 'Jilla' and 'Aarambam'.
Celebrity Chat shows, Cookery shows, new film shootings, Onam songs and other special programmes would make this Onam more awe-inspiring.