Asianet onam special movies 2014: Complete schedule for moviegoers

Asianet Onam malayalam movies 2014 complete schedule are given her for the knowledge of the moviegoers. Asianet is telecasting 10 malayalam movies for the 2014 Onam. This includes blockbuster movie 'Drishyam' and few other movies which got well reception at the box office. Read more to know the list of movies which would entertain you during this Onam season.


With just a month remaining for 'Onam' the biggest celebration of malayalis around the world, television channels are also preparing to deliver delicious recipes for its viewers. Asianet, one of the most prominent entertainment channel in malayalam is gearing up to welcome the viewers with a bunch of exciting programs.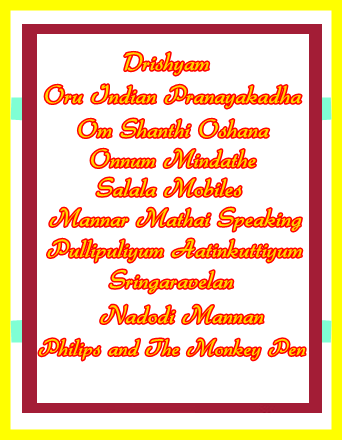 Other than Onam special variety programs, the channel will be telecasting a bunch of super hit movies which had made wonders at the box office. As other entertainment channels like Surya TV, Mazhavil Manorama, Amrita TV and Karali TV are holding the rights of some interesting movies, it is much sure that this Onam would be a tough time for the viewers with the TV remote.

During Onam 2014, Asianet would release 10 movies from their library before the spectators. This includes blockbuster movie 'Drishyam' and couple of hit movies. As world premire show, the channel will telecast movies sich as Drishyam, Oru Indian Pranayakadha, Om Shanthi Oshana, Onnum Mindathe, Salala Mobiles and Mannar Mathai Speaking. More than the above mentioned movies, Pullipuliyum Aatinkuttiyum, Sringaravelan, Nadodi Mannan, Philips and The Monkey Pen will reach the homes of movie enthusiasts.

'Drishyam', the 'All time Blockbuster' has been credited with a number of records. It also broke the sales record of home DVD's and Blu Ray in less time. 'Drishyam' is also being remade in other southern languages too. Meanwhile movies like 'Oru Indian Pranayakadha', 'Om Shanthi Oshana', 'Philips and The Monkey Pen' and 'Pullipuliyum Aatinkuttiyum' are worth to watch. All the 4 movies made gigantic collection for the Kerala box office.

As usual, Asianet would be offering a long line of innovative programs for this Onam. This includes Celebrity Chat shows, Cookery shows, Film shootings, Onam songs and much more. So get ready to celebrate this Onam with enjoying the appetizing recipes offered by Asianet.