Surya TV 2014 onam special movies: Complete list of premier shows

Surya TV 2014 onam special movies complete list of premier shows are given here for the knowledge of moviegoers. Onam Special movies 2014 on Surya TV, Asianet, Mazhavil Manorama, Amrita TV, Kairali TV, Jeevan TV and Today TV will add more fun to the viewers. Like the previous year Surya TV will be arriving with a bunch of super hit movies.


'Onam' being the most celebrated festival of malayalis, malayalam television channels are gearing up to deliver the best viewing experience for the spectators. Along with other prominent entertainment channels like Asianet, Mazhavil Manorama, Amrita TV, Kairali TV, Jeevan TV and Today TV, Surya TV too will give a visual treat with a long line of thrilling programs. The channel will broadcast Onam special variety programs and super hit movies for this season.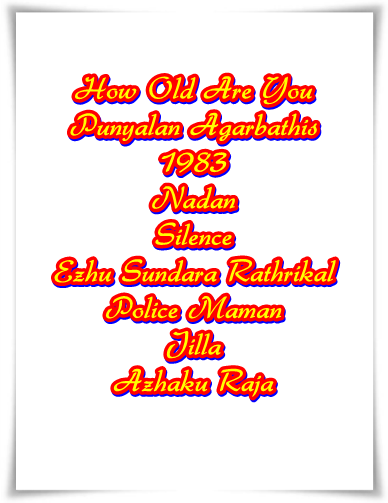 Surya TV which has grabbed some interesting movies during the past will reveal a dozen among them before the spectators. To give a tough competition to their channels, Surya TV will telecast around 10 movies for this Onam. According to available information, three super hit movies 'How Old Are You', 'Punyalan Agarbathis' and '1983' would reach the homes for pure entertainment. Movies like 'Nadan', 'Silence', 'Ezhu Sundara Rathrikal' and 'Police Maman' are expected to aired by Surya TV.

'How Old Are You' which marked the comeback of actress Manu Warrier had a grand welcome at the box office. The movie could entertain the audience for its innovative approach in telling the tale. The satellite right of this movie was grabbed by Surya TV for a huge amount. 'How Old Are You' directed by Rosshan Andrrews zooms into the life of Nirupama Rajeev, a UD clerk in the Revenue Department. She was inspired and made to see big dreams. The movie focuses on patriarchal society's fixation with attaching gender and age definite stereotypes to women.

'Punyalan Agarbathis' helmed by Ranjith Shankar too was a box office success and gained more than 6 Crores from theatres. The movie gained support from the audience for its interesting storyline and satire. '1983', a sport based movie too made 10 Crore at the box office. This movie was declared the first hit in 2014. 'Nadan' featuring Jayaram in lead had made its presence in the theatres. Tamil movies 'Jilla' and 'Azhaku Raja' are also expected to reach the homes.

Celebrity Chat shows, Cookery shows, new film shootings, Onam songs and many special programs can make this Onam more colourful. So get ready to celebrate this Onam with enjoying the enticing recipes offered by Surya TV.