Manoramaonline Pookalam Contest 2014 – Win Dell Tablets

Online E - pookalam contest 2014 by Malayalam Manorama details are given here. Online pookalam competition 2014 would be quite interesting for the users. The best four designs will be awarded with Dell Tablets and exciting prizes for the other selected designs. Read more to participate in the Online E - pookalam contest 2014.


With Onam season nearing, it is time to get engaged with some inventive activities connected to the festival. Onam, being the most important festival is celebrated by malayalies living around the world with pomp and excitement.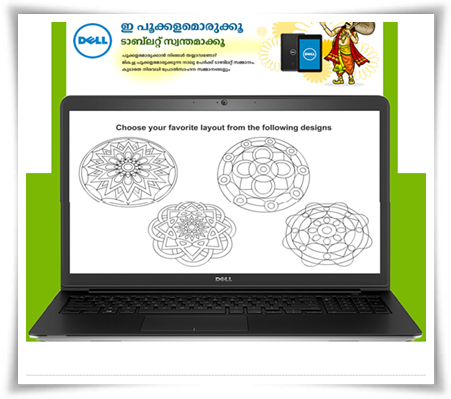 The most interesting part of the Onam celebration is the Pookkalam. How about participating in a pookkalam competition without using flowers? As usual, Malayala Manorama has come forward with an thrilling E – Pookkalam content for those interested in showing talent in designs.

Initiated a few years ago, the E Pookkalam contest organised by Manorama online has created waves for its innovative approach in bringing people from around to the world to a single platform. Anyone can participate in this spectacular competition which comes with zero registration fees. Much interestingly, like the previous years, the current edition of E – Pookkalam comes along with some attractive prizes.

The best four designs will be awarded with Dell Tablets while the other selected designs can win exciting prizes. Unlike the normal pookkalam contest where original flower petals are used, here electronic form of flowers will serve the purpose.

Getting excited about the contest? If so, do visit the specially designed webpage to participate in the competition and show your skill. You will be invited to select a plain design from the give 4 types of design. As the participant select one design, you will be guided to the next page where some interesting colours are waiting to serve your purpose.

With 32 different types of flowers available on the menu, participant can choose the flowers according to their taste to fill the pookalam. The brightness, hue, saturation and contrast of flowers can be adjusted using the tools.

After finalizing the design of the pookkalam, it can be submitted for judgment. The prescribed form must be duly filled before submitting the entry for the contest. The selection of winners will be the discretion of Manorama Online. So do participate in the online E-pookalam contest and win a Dell tablet.

http://www.manoramaonline.com/advt/Festival/Onam-2014/e-pookalam/e-pookalam-index.html