Onam smartphone offers 2014: 700 Crore business in Kerala

Onam smartphone offers 2014 will set 600 – 700 Crore business in Kerala. During the Onam season, the state will witness the biggest deal in smartphone sales. Companies like Apple, Samsung, HTC and Xiaomi would take the opportunity to sell their products in Kerala. With 3 lakhs phone get sold in a month, the number will be doubled in a month.


Onam is one of the biggest season for the business community to build a strong base in the state and gather maximum profit in limited period. With 3 lakh phones sold every month, the number would be doubled in a month time. To get share from the smartphone business, popular mobile companies like Apple, Samsung, HTC and Xiaomi have come up with interesting price offers for the phone lovers.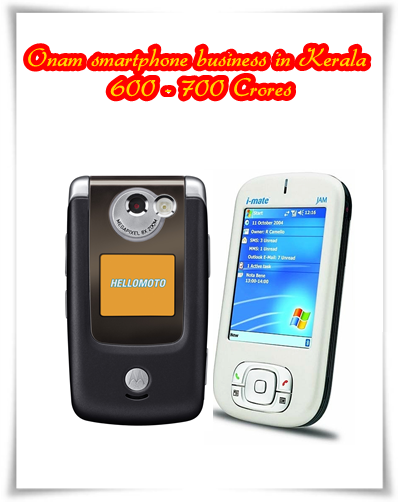 It is expected that business worth 600 – 700 crores will be done during the months of August and September. As competition between the most popular electronic companies has reached the zenith, smartphones with unbelievable price cut can reach your hands. Around 1 lakh smart phones are solely sold in a month, while the companies earn 350 – 360 Crores from Kerala itself.

As the price gets reduced during the Onam season, the sales will be rocketed with 40 -45% more sales. As the users demand phones with 'Whats App', phone companies are trying their best to attract people with more inventive apps and games. Even though, Samsung dominated the smartphone market during the last Onam season, things would not be fine during this time.

Chinese companies like Lenovo, Huawei, Gionee and Xiaomi, Korean company LK have made progressive business in the world. Indian companies like Micromax, Xolo and Karbonn penetrated into the Kerala market giving tough time for the popular business groups. More interestingly Sony, Motorola, LG, Azuz and Panasonic have introduced various models to attract the mobile phone users.

Mostly malayalis are fascinated towards phones which are available at a price range of 10000 – 15000. But phones which comes at Rs 5000 is well demanded by workers from other states who live in Kerala. They demand phones with big screen to use it as Television.

Used phones do have a huge market in the state. These phones have high demand among the non residents and students community. People think of owning a phone with better features than buying a new device with limited facilities.