Onam 2014 Parippu Curry Recipe and Preperation Method

Onam 2014 Parippu curry recipe, ingredients and preparation method is given here. Onam is fast approaching, let us soon learn the easy recipe to make the most delicious and important dish of Onam sadhya, the Paripuu curry. Yes, the below article will teach you how to make yummy parippukari along with pappadam.


Onam special Parippu Curry

Parippu Curry is a very common dish prepared throughout Kerala especially during festive occasions. It is an unavoidable dish during Onam season too. This delicious yellow color dish with its outstanding odor finds a prominent place in the Onam sadhya. Parippu curry is the first dish served on top of rice during Onam celebrations. Further Sambar and pullissery is been served. Parippu curry has to be mixed well with rice (kutahri) along with pappadam. It is no doubt an enjoyable dish which no Malayali wants to miss. Here is an easy way to cook parippu curry.


Ingredients for Parippu Curry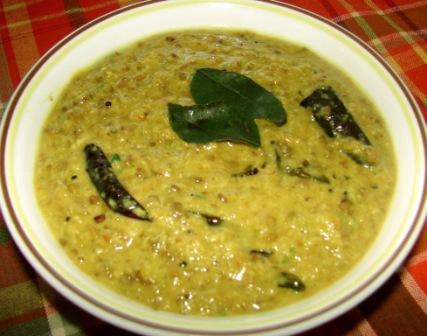 Cheruparippu – 1 cup
Grated coconut – half of one coconut
Cumin Powder – 1/2 Tsp
Green chilly – 2-3 Nos
Turmeric Powder – 1/4 Tsp
Salt - A Pinch
Water – 1/2 Cup

For Seasoning
Mustard Seeds – 1/4 Tsp
Dried Red chilly – 2-3 Nos
Shallots – 4 Nos
Curry leaves - 2 Sprigs
Coconut oil – 3 tsp (Ghee is also preferred)


Method of Preparation
Firstly roast the moong dal (cheruparippu) without applying oil. Meanwhile take another vessel and boil 1/2 cup water in it. Then add the roasted moong dal into it and allow it to cook.


Once the dal is cooked well, mash it into a fine paste. Now take a grinder and make a ground paste out of grated coconut, cumin powder and green chilly. Add the paste into the mashed dal and stir well.


Add salt, turmeric powder and a pinch of chilly powder if required to it and allow it to boil well until the dish reached required consistency.


Once cooked well, remove the dish from the stove and close it with a lid and keep it aside.


Take another pan and pour oil or ghee into it. Chop the shallots into fine pieces. Splutter the mustard seeds and add the chopped shallots into it. Once the shallots turn into a golden brown color, add the dried red chilies and curry leaves into it. Off the flame and pour it into the dish. Mix well and serve hot with rice.


Parippu curry tastes best with pappadam. Therefore take a heavy bottomed pan and pour coconut oil into it. Once the oil boils drop each pappad into it and make it into crispy pappadam. Enjoy having it along with hot rice.
Garnishing Tips

Parippu curry, when prepared for Onam sadhya does not require any garnishing techniques to be applied as the onam sadhya will be a colorful feast with lot of curries around. Anyways for those who want to add to the look of parippu curry, can keep a fresh sprig of curry leaves on top of the parippu curry to make it more attractive and pleasing to the eyes. The yellow color of the dish along with the dark green color of the leaves will be a best combination.