Onam 2014 Special Recipe - Sharkara Varatti

Sharkkara Varatti, the tasty, sweet snack which forms an important place in the Kerala Sadhya is a favourite snack of all Malayalais. The recipe of Sahrkkara Varatti is given below. Try it out for this Onam and enjoy the snack with your family.


Recipe of Sharkara Varatti

Sharkara Puratti is a favourite crispy snack of Keralities and it finds a prominent place in all sadhyas be it Onam sadhya or wedding sadhyas. The sweet and crispy snack is also know by other names such as Sharkkara Puratti or Sharkkara Upperi. It is placed with along with banana chips at one corner of the banana leaf during sadhya. Due its sweet taste, it is a favourite snack of children. In this article I have given the step by step procedure to make Sahrkara Varatti. First of all let me tell you, this is not an easy job as you think. It does takes time and effort but the end result will be tasty. Sharkara Varatti is bought by many from the shops but isn't it healthy and interesting to try it out at your home for this Onam? If you like to experiment, try out this recipe and no doubt it is worth the hard work.


Ingredients for Sharkara Varatti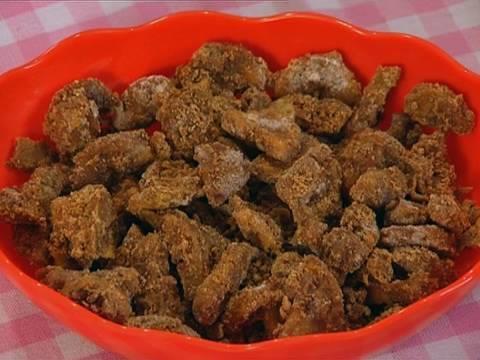 Raw Banana (Ethakkaya/Nenthrakaya) : 4-5 Nos (Medium Sized)
Jaggery (Sharkkara) – 1 cup
Sugar : 1 Tblsp
Water : 2 Cup
Coconut Oil – As Required (To deep fry)
Dried Ginger Powder (chukku) : 1 Tsp
Cumin Powder (Jeerakam) : 1 1/2 Tsp
Cardamom Powder (Elakka) – 1 Tsp
Turmeric Powder : 1 Tsp


Method of Preparation
Remove the skin of raw bananas and immerse them in a vessel full of water for about half an hour. Add a pinch of turmeric powder to it. This helps to remove the stickiness of the raw bananas.


Take each banana from the water and cut them through the mid, length wise. Then cut slice them into slightly thick pieces. Keep it aside in a tissue paper or get it dried slightly so that their is no water present on it.


Take a deep bottom vessel and boil oil in it. Add these sliced banana pieces into it. Get it deep fried in medium flame, without each piece getting sticked to one another.


When the banana pieces are half fried, sprinkle salt solution to the vessel. Stand at a distance as the oil might splutter when the salt solution falls on it.
Toss the chips well so that every side gets fried equally well. Each pieces has to become crispy, hence trying crushing them to find out whether it is fried well of not.

Once done, that is when the chips are reddish golden, off the flame and remove the chips from oil and keep it in a colander to get rid off excess oil. Be careful to keep a plate or a newspaper underneath to catch the dripping oil from the colander.


Now, spread a tissue paper (kitchen tissues) and spread these chips into it. Allow them to cool completely.


Meanwhile mix jaggery with water and heat it another vessel. When the jaggery totally melts, strain it to get rid of any impurities. Then again heat the jaggery syrup in a medium flame until it reaches the required consistency, that is when it becomes not so thick or watery. You have stir continuously in between. The exact consistency is called as "Nool Paruvam" in Malayalam.


Another way to check the consistency of the syrup is to put one drop of boiling jaggery in cold water. If it has reached the required level of consistency, the drop will not melt, instead it will form a pearl drop.


Now lower the flame and add the fried bananas into the syrup and mix well, which is a hard job. Once the banana pieces are covered with jaggery syrup, add the cardamom powder, Dried Ginger Powder and cumin powder to it. Mix well.


After few minutes, off the flame and allow it to cool. Now add the powdered sugar on to it and mix well. This prevents the Sharkara Varatti from sticking to each other. You may also use roasted rice flour instead of powdered sugar.


Sharkkara varatti is ready, once it is completely cool, store it in an airtight container.