Onam 2014 Special Mathanga Erissery Recipe - Ingredients and Preparation

How to make Onam 2014 special mathanga erissery recipe? Onam 2014 special mathanga erissery recipe, ingredients and preparation method are described here. Mathanga or Pumpkin is a vegetable easily cultivated in Kerala. Hence Mathanga erissery has become a favourite dish of Malayalis especially the South Keralities. In this article you will find the step by step procedure to make this wonderful dish. Try it out and you can add one more dish to your list during this Onam celebrations.


Recipe of Mathanga Erissery

Erissery, the traditional recipe of Keralities can be made out of raw bananas, Pumpkin, a combination of various vegetables along with pulses and so on. Anyways it is a yummy dish preferred by most of the Malayalis. Moreover Pumpkin is a vegetable which is incredibly rich in vital antioxidants, and vitamins. Pumpkin erissery can be made by combining red beans, black chana seeds or green grams. You can choose the one which you like the most. However here, we are taking green grams to prepare Mathanga erissery this time.

You all are busy with Onam preparations, hence let us quickly get into the method of preparation. This will surely help you to save your time. Go through it and enjoying this Onam of yours with Matahnga erissery.


Ingredients for Mathanga Erissery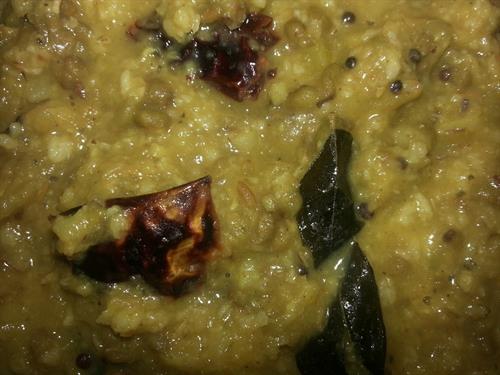 Pumpkin (peeled and sliced into cubes) : 1 Cup
Green Gram/ Red Beans/ Kadala : 1/4 Cup
Grated Coconut : 3/4 Cup
Cumin Powder (Jeera) : 1/2 Tsp
Garlic : 2-3 Cloves
Turmeric Powder : 1/4 Tsp
Chili Powder : 1/2 Tsp
Green Chilly : 2-3 Nos
Water : 1 Cup
Salt : To Taste

For Seasoning
Chopped Shallots : 2-3 Nos
Mustard Seeds : 1/2 Tsp
Curry Leaves : 2 Sprigs
Dried Red Chilly : 2-3 Nos
Coconut Oil : 3 Tblsp


How to prepare Mathanga Erissery
Wash thoroughly the green grams and pumpkin cubes. Take a cooker and put the green grams and pumpkin cubes into it. Add water and a pinch of salt to it. Close the lid and allow it to cook until 4-5 whistles are given out.


Meanwhile grind 1/2 cup coconut with garlic cloves, green chilly and cumin powder. Add little water to it to make it a well grinded ground paste.


After 5 whistles, off the flame and keep the cooker aside until the full pressure is gone. Pour little water on to the cooker and remove the lid slowly.


Again light the flame and keep the cooker on it. Smash well the pumpkins using a string spoon and add the ground paste to it along with turmeric powder and chilly powder. Mix well and add more salt if required.


Allow the dish to boil well and off the flame when it reaches the required level of consistency.


Take a non stick pan and pour oil into it. Splutter the mustard seeds and add the chopped shallots along with 1/4 cup grated coconut, curry leaves and dried red chilies to it. Saute well and off the flame when the shallots and grated coconut turns golden brown in color.


Now pour this seasoning into the dish and close the lid for a while. This is done to lock the odor of the dish.


Tasty Mathanga erissery is ready and it can be served along with hot rice.

Isn't this recipe an easy method? The preparation time is just below 30 minutes, hence you can surely include it in your Onam sadhya this time. Happy Onam to one and all in advance!