Onam 2014 Special Pulissery Recipe and Preparation Method

Onam 2014 special pulissery recipe and preparation method is given here. Vellarika Pulissery Recipe is given below. It is an excellent dish which forms a part of the Onam Sadhya. Here we have mentioned the tastiest way of preparing this dish. Try it out for this Onam and surprise your loved ones.


Onam Pulissery Recipe

Pulissery is a very common dish prepared in Kerala. It is known by different names in different parts of the state. The word Pulissery is commonly used by South Keralities and it is also known as Moru Curry or Kachiya Moru. Pulissery is yet another dish which cannot be avoided during sadhyas. It is an easy to make dish which adds color and taste to the Onam sadhya. In this article we have given the recipe to make Pulissery the most tastiest way. Read it and give it a try. We are sure it will and attractive dish in your Onam celebrations.


Ingredients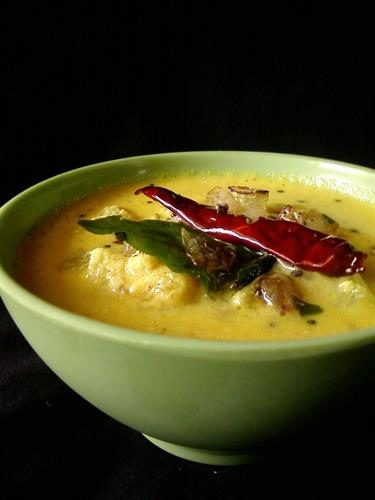 Yogurt : 2-3 Cups
Vellarikka (Cucumber) : 1 Cup (Chopped into Cubes)
Turmeric powder : 1/2 Tsp (or more until you get the desired color)
Salt : To Taste
Cumin Powder : 1 Tsp
Grated Coconut : 1/2 Cup
Chilly Powder : 1/4 Tsp
Green Chilly : 2 Nos
Water : 3 cups

For Seasoning
Curry Leaves : 2 Sprigs
Dried Red Chilies : 2-3 Nos
Mustard Seeds : 1 Tsp
Fenugreek Powder : 1/2 Tsp
Sliced Shallots : 3-4 Nos
Coconut Oil : 2 Tblsp



How to prepare Pulissery?
Firstly take a vessel and pour 1 cup of water into it and allow it to boil. Then add the vellarika cubes into it with a pinch of salt. Close the lid and allow the Vellarika to cook well.


Meanwhile grind the grated coconut, chilly powder, green chilies and cumin powder into a paste.


Once the Vellarika is cooked, add turmeric powder and the paste into it. Reduce the flame and allow it to mix well.


Take the yogurt and add 2 cups of water to it, stir well and make butter milk out of it. Now add the butter milk to the dish.


Just heat it, never allow the dish to boil after adding butter milk as it will spoil the entire dish. I have seen grand moms dipping their finger to see whether the dish has become hot. If you feel so off the flame and keep it aside.


Take another pan and pour oil into it, splutter the mustard seeds and add the sliced shallots into it. When the shallots turns into golden brown color, add the fenugreek powder, curry leaves and dried red chilies to it. Saute well and off the flame.


Open the lid of the dish and pour this seasoning into it and close the lid again to lock the odor.


Pulissery is now ready to be served along with rice. You can garnish it by placing a sprig of curry leaves on it.

Doesn't this recipe sounds easy and tasty? Try it out and you surely will like it. You may also add Pineapples, Pappaya or Ash Gourd instead of Vellarika to make a Pulissery.