Dolls malayalam movie - Preview

Dolls malayalam movie preview is given here. Dolls is a upcoming Malayalam movie directed by shalil kallur. This film is produced by U.A.E based MJS media. Miss Kerala 2011 first runner up Shruthi Nair and Miss Kerala 2011 second runner up Maria John are playing important roles in this film. This film is expected to be released in July 2012.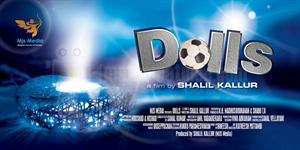 Dolls is an upcoming malayalam movie produced by Magical Journey of Scenes (MJS) media. Dolls is a completely a commercial and suspense thriller which will suit the malayalam movie lovers. The shooting of the movie was carried out in Thrissur district and surrounding places. Dolls is an adventure and challenge taken by Shalil Kallur who himself has written and directed and produced the movie.

Tournament movie fame John Jacob is casted in the lead role while Shruthi Nair and Maria John(Miss Kerala runners up 2011) will make their debut in this movie The other cast includes Thilakan, Ashokan, Indrans, Kalabhavan Haneef, Bijukuttan, Jayan, Babu Namboodiri, Kalashaala Baabu, Subi, Lakshmipriya and Ambika mohan. Thilakan will do the role of Nanu Pillai. Rahul, Deepan, Raphy Pavaratty, Noushad, Sunil, Vijayan, Vinu Abraham, Shruthi Nair and Maria John are making their debut through Dolls.


Dolls malayalam movie story

As per available details Dolls is a movie which deals with a story circulating around a heritage 'vaidyamadam'. Years ago the physician (Vaidhyan) of the 'vaidhyamadam' discovered a great poison mix. As he understood that medicine can be extremely harmful and can be used for bad purposes he kept the secret about the poison mix and he didn't revealed at all. The youngest generation of that ' Vaidhyamadam ' is Dileep. He is a well known doctor at a hospital in Dubai. Dileep's classmates Anoop, Santhosh, Parvathy and Dileep's professor , Prof: Ravi are also working along with Dileep. But later the secret about the poison mix got leaked somehow and Dileep gets it. Dileep and his friends decided to try this medicine in one person. But that person later comes to know about the after effects of that medicine and he refuses to volunteer for that experiment. The story forwards about what Dileep is going to do with that poison mix.

Rathish Pattambi handles the art direction and spot editing will be done under the supervision of Sreejith. Lyrics for this movie is written by Sajeev Navakam and music by Murali Guruvayoor. This movie is expected to be released at the end of June 2012 or July first week.