Watch Independence Day India 2012 parade online – Flag hoisting Live streaming

Watch Independence day India Parade, flag hoisting and celebrations live actions on http://independenceday.nic.in/ . Indian citizens are celebrating their 66th Independence Day on August 15th 2012. This Day commemorates the end of British rule in India. The main event of Independence day is conducted at red Fort in the capital city of India which includes a grand parade and many other cultural events. The entire actions are live webcasted and telecasted.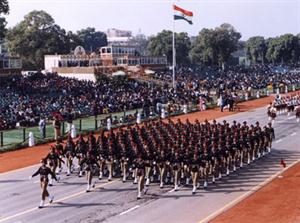 The Independence Day of India is celebrated on the 15th August of every year to commemorate the end of British rule in India. This National festival is celebrated with great enthusiasm all over the country. Flag is hoisted at all local administrations in every state. But the main event is conducted in the capital city of India, New Delhi. Independence Day celebration starts when the Prime Minister of India unfurls the National Flag of the country. The main programme is held at the Red Fort. Independence day is a resemblance of the National Integrity and the patriotism of Indian Citizen. The Prime Minister's speech is one of the most auspicious highlight of the event. In his speech, he includes the major achievements of the government in the previous year, the important issues faced by the country and the steps to be taken for the further development of the nation. It is followed by Parade and various cultural ceremonies highlighting the various traditions of Indian culture.

On this day, the citizens pay homage to all their freedom fighters who fought to free their country from the British rule. The capital city starts preparing well in advance. All roads and major buildings are illuminated and decorated with lights and the skies are filled with colourful balloons and kites. Such kind of ceremonies and celebrations takes place in the capital cities of all states. The Chief Minister for the state hoists the flag in the state capital city. Political leaders hoists the flag at local administration and in each districts.



Watch Independence Day Parade Live

You can watch the live actions of flag hoisting, parade and ceremonies of the 66th Independence day of India. The all actions are live webcasted and live telecasted. All major television channels (including Doordarshan National) will live telecast the events and programmes. You can also watch the events online. The live streaming of the republic day events are available in the below given link.
http://independenceday.nic.in/

So it is the time to show the strength of our nation to the world. Let us pray to free India from poverty and terrorism. Let us proudly fly our tri-colour flag and sing 'Vande Mataram'