Pathiramanal malayalam movie - Unni Mukundan in M Padmakumar's action thriller

Pathiramanal malayalam movie preview is given here. The movie directed by M Pathmakumar will feature Jayasurya and Unni Mukundan in lead role. Pathiramanal is produced by Dhanush productions.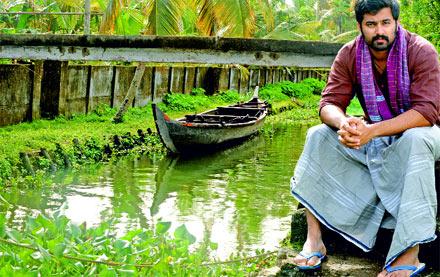 Pathiramanal is one of the aesthetic beauty islands in Vembanattu lagoon. It was seemed like a queen of hearts in the sunset. The word Pathiramanal means Sands of Night. As the word meaning the islands become more adorable in the night. The scenic beauty of both sides of the lake as well as the island is a mind blowing visual for every natural lover. It has become the home to many rare varieties of migratory birds from different parts of the world. Upcoming Malayalam movie Pathiramanal directed by M Padmakumar tells a story which is being made in the background of this captivating island. Movie makers are using the splendid beauty of Pathiramanal Island to give a visual treat for the viewers.

Pathiramanal is an action drama movie directed by well-liked movie maker M Padmakumar. The script of the movie is done by well known script writer Babu Janardhanan. The movie is featuring Jayasurya and Unni Mukundan in lead role. Ramya Nambeeshan, Pradheep Ravuth, Bagath, Kunjan, P Balachandran, Anil Murali, Santhosh, Idavela Babu, Shalumenon, Shari, Jyothi, Archana, Master Sidarth, etc. is essaying other major roles of this movie. The movie will be a visual treat for the viewers in presentation as well as the theme.


Pathiramanal Malayalam movie story

Pathiramanal Malayalam movie is portraying a revenge as well as love story. The flick is describing the story about a private financier Eldho(Unni Mukundan), who lives in a hill station with his mother. His mother is become mentally challenged state after she was raped by a police constable (Pradeep Rawat) during Eldho's childhood. She had conceived from the rape and gave birth to a baby girl. Johnikutty (Jayasurya), Eldho's father is avenging his wife's hazard by going after the police constable but unfortunately dies. After Eldho has grown up, he reaches Pathiramanal, a place in Kuttanad, in search of the constable to take revenge to fulfill his father's target. There he meets Sara (Ramya Nambeeshan. Sara is a girl who leads life fighting with tragedies. He realizes that Sara is the daughter of the constable. There the movie is progressing with dramatic incidence. Ramya Nambeeshan has been doing a bold character in this movie. After Mallusing, Unni Mukundan is back as an action hero role in the movie Pathiramanal.


Pathiramanal Malayalam movie production

The shooting of the movie, Pathiramanal has been carried out in Alappuzha Muhamma Island and nearby places. Formerly it was planned to give Jayasurya double role, but due to some reasons one role has been transferred to Unni Mukundan. Pradheep Ravuthar is back on Malayalam silver screen after China Town. Movie makers are now bringing actors from other language to do the villain role to give a fresh feel. The cinematography of the movie Pathiramanal is handled by Manoj Pillai who has tried his best to capture the aesthetic beauty of the nature in the visuals. The team has used house boats as the main vehicle to reach on location, since no other vehicles are able to reach the location.