Samskruthy Shenoy wings up to float like a 'Butterfly'

Samskruthy Shenoy is much excited making her way in as a lead actress through 'Black Butterfly', the directorial debut of Rajaputh Ranjith. After keeping her foot strong as a model, Samskruthy is riding high with 'My Fan Ramu' and 'Black Butterfly'. Being a member of a traditional Konkani family settled in Kochi, Samskruthy dreams to build up a career in modeling and also to the world of entertainment. SpiderKerala is extremely happy to give an exclusive coverage about Samskruthy Shenoy.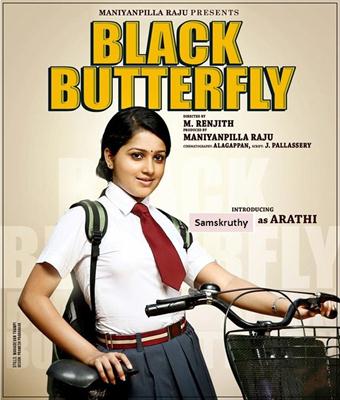 It would be much encouraging for an individual to watch his/ her life getting polished to live according to own wishes and dreams. A self-disciplined mind along with willingness to work hard will bring the return and would land them in a safe zone too. The sizzling world of film industry is wide open to those talents who could contribute their part wisely and effectively. Coming from a traditional Konkani family settled in Kochi, Samskruthy Shenoy dreams high building a healthy career in the enchanting world of entertainment.

Samskruthy after keeping her foot strong as a model is now riding high with 'My Fan Ramu' and 'Black Butterfly', two upcoming malayalam movies which are gearing up to reach theaters. Born as the only child to Govind Raj and Vidya Raj, Samskruthy always kept her passion over movies alive. Govind Raj, a doctor by profession kept himself behind Samskruthy fostering her budding talents supported by her mother Vidya.

Samskruthy who stepped into the open stage kept nothing behind making her learn classical dances Bharata Natyam and Mohiniyattom from the age of 3. She also experienced the trends building up in cinematic dances too. Samskruthy had live dancing experience on stage during her childhood days performing for her school youth festivals. Stuffed with dreams and passion over silver screen has landed Samskruthy at Lukman who owns the Lukmance Model Management agency which already had made a name known for its unique capability of blending beauty and talent together.

Lukmance academy has become a ladder of success for many new faces experiencing it in their life. Lukman being a gifted hand, draw the line of success much before Samskruthy could imagine. The entry into modeling was truly a stepping stone for her who got the first assignment for Kalyan Silks Adi sale advertisement. Later she enjoyed working with Kavitha Jewellery Ottapalam for their billboard and PP Mall in Mukkom, Kozhikode for an ad shoot.

While making her entry into new class from 8th standard to 9, Samskruthy was much lucky enough to get her first movie assignment on the day after doing her portfolio for Luckmance. The young charming 14 year old Samskruthy currently studying in 9th standard at SVN HSS Kochi had taken break from studies for the first movie 'My Fan Ramu' along with the Kerala Strikers cricket team. Under Nikhil Menon's direction Samskruthy had featured as a young TV reality show producer.

During the while Samskruthy landed in as leading actress for Rajaput Ranjith's directorial debut 'Black Butterfly'. The young movie will feature Samskruthy as 'Arathi' paring opposite to Niranj, son of actor Manianpillai Raju. She also had done a lengthy role for an untitled Telugu movie which will be completed after the wrapping up of 'Black Butterfly'. "I have shot almost 70% for a Telugu movie yet to be titled and some portions are to be shot later after I complete Black Butterfly", adds the actress.

Samskruthy Shenoy is thrilled to share her experience with the 'Black Butterfly' team which brings true life even behind the camera. She was excited to speak to SpiderKerala about the love and care provided by director Ranjith, producer Manianpillai Raju and co stars Malavika Nair (Malu), Midhun and Niraj and felt proud being one among the huge 'Black Butterfly family'.

"I just loved the experience of working in movies. My dream is to be a leading artist in all Indian languages. I will continue my studies and would like to graduate with dance as my subject once I am done with secondary education. I am here to stay if people love me and support me." Samskruthy signs off.

Being an online media, we extend our sincere thanks to Samskruthy for spending valuable time for us. Having high potential and talents, let her become a proud daughter for her parents. We too wish a bright future for Samskruthy.