Black Butterfly Malayalam Movie Review - FDFS Reports from theaters in Kerala

Black Butterfly malayalam movie review and FDFS reports from theaters in Kerala. Through this movie we get to know many new faces and young artists. This movie is about the love between two pairs of lovers but it has much more than the normal love as it has life in it. Read below to know about the story, cast and crew of the movie "Black Butterfly".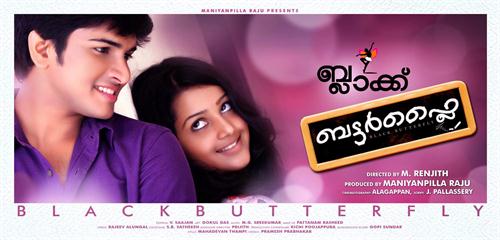 February 14th is celebrated world wide as Valentine's day, a day for lovers. To make this auspicious day much more brighter many new films has been released on 15th February 2013 across Kerala. Among these films the one with and for romance is "Black Butterfly", a romantic family entertainer.

Once again the renowned actor and producer Maniyan Pillai Raju(Sudheer Kumar) has joined his hands with the noted director M. Renjith to create this wonderful romantic movie. Some of the previous hit production ventures of Maniyanpilali Raju are Chotta Mumbai, Aye Auto, Vellanakalude Nadu, Anandhabhadram, kannezhuthi Pottum Thottu etc. Through this movie the known producer Rajaputhra Renjith turns to be a director. He has produced movies like Elsamma Enna Aankutty, Red Chillies etc.

The movie "Black Butterfly" is all about love and many new faces have appeared in this film. The movie features Mithun Murali, Malavika Sai, Niranj, and Samskriti in the lead roles. The story is of youth and talks about their love and about their problems. Niranj Sudheer Kumar, son of the veteran actor Maniyanpillai Raju is also appearing in this movie. The movie is a good entertainer and will surely attract the youth and family audiences towards it. Now our children has access to almost all technology. Parents should watch this movie and see how it can affect the life of your kid.


Cast and Crew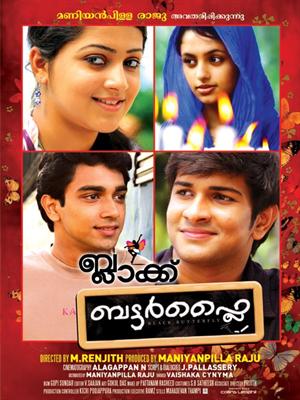 Cast : Niranj Sudheer Kumar, Samskruthy Shenoy, Midhun Murali, Malavika Nair, Ganapathi, Irshad, Janardhanan, Maniyanpilla Raju, Shammi Thilakan, Nelson, and Sukumari etc
Director : M . Renjith (Rajaputhra Renjith)
Producer : Manian Pillai Raju
Banner : Maniyan Pilla Raju Productions
Cinematography : Alagappan
Make-up Man : Pattanom Rashid
Costume Designer : S. B. Satheesan
Script and Screenplay : J. Pallassery
Art Director : Gokul Das
Production Control : Kichu Poojappura
Associate Director : Prejith.G
Lyrics : Rajeev Aalunkal
Music Director : MG. Sreekumar
Stills : Mahadevan Thampy
Designs : Pramesh Prabhakar
Distributrs : Rajaputhra
Editor : V. Saajan
Background Score : Gopi Sundar


Story line of "Black Butterfly"
'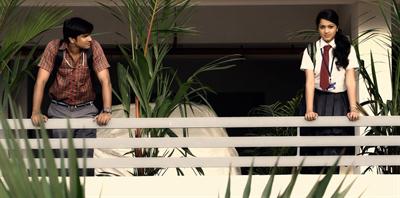 The recent movie "Black Butterfly" portrays the love between two pairs of lovers. It talks about how the pranks played by plus two students for fun later on turn create serious troubles in the life of many. Pranks can be of fun provided it does not harm anyone or take the life of others. The story of this movie revolves around four people, actually two pair of lovers. They are Benny, Reena, Deepak, and Athira. All these characters re handled by new comers. Mithun Murali appears as Benny while Malavika Sai appears as Reena. Niranj appears as Deepak, a plus two student and Samskriti appears as Athira.

Benny and Reena are lovers. Benny lost his parents at a young age. Deepak and Athira make the second pair. Benny is a honest, humble and intense lover who would do anything for his lover and loved ones. Reena's character is as a silent lover and she is the Black Butterfly in this movie. Deepak is a misguided youth and Niranj has put forward rocking performance in this movie for acting is their in his blood. Athira is the colorful butterfly in this movie. The story of this movie revolves around these characters. The story progresses through their actions, love and mistakes. This movie has good songs under the music direction of the great singer M.G Sreekumar.

More than a movie about love, it can be called as a movie which teaches the youth about the harmful effects of technology. We are lucky enough to be exposed to lot of technological advancement but all these should be used for our good and in no way it should harm others. In these days parents are promoting their kids to use the latest technology, this movie is a question for such parents. Moms and dads do watch this movie and be aware of the things happening in our society. Do take initiative to protect your child from falling into troubles rather than spoiling them by giving the latest technological stuffs.


Review of the Malayalam movie "Black Butterfly"

The movie has good rating at the box-office. The youth of Kerala has accepted this movie and the new faces who were introduced to us through this movie. The movie "Black Butterfly" has proved that it is not necessary for superstars to act in a movie to make it a huge success. Our viewers will accept anyone who has the caliber to act. "Black Butterfly" is indeed a good start for the new comers and it is a good entertainer under the direction of M. Renjith.

This movie has widely been accepted by the family audiences who stand for their kids. Show off has no value in life if your life itself is in trouble. Be good and do good to others is what this movie teaches the students and the youth. This movie can surely create an impact on our society and in their way of thinking.

SPK Rating : 8/10
SPK Verdict : A family entertainer with a good moral