Memories: Mia to romance Prithviraj in Jeethu Joseph's next

Memories malayalam movie directed by Jeethu Joseph will bring Prithviraj and Mia together for an onscreen romance. Jimmy George christened as Mia who debuted with Ettekal Second has already got a handfull of movies making her strong presence in 2013. Meanwhile young superstar Prithviraj will try to keep his foot strong with Celluloid, Aurangazeb, Mumbai Police and Memories.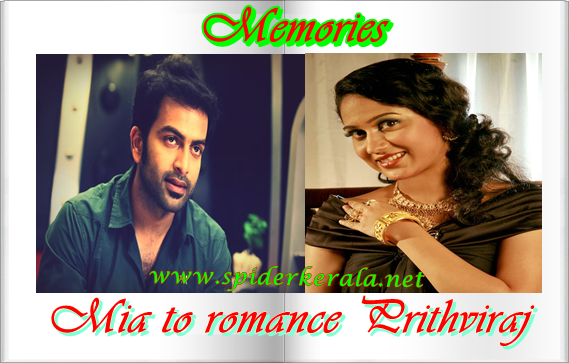 The year 2012 proved to be a stepping stone for young Mia who had landed in the malayalam movie industry making her entry much comfortable. After presenting herself on small screen as sister Alphonsa, Miya walked through the rampls winning the Miss Fitness title.

Born as Gimmi George, she changed her name to 'Miya' from the movie 'Cheetayees' which proved to be lucky thereafter. Even though her acting debut 'Ettekal Second' is waiting for release, she received praise from around for her majestic performance as a pesky wife in Chettayees.

Miya, who is hand tightened with a couple of projects would share screenspace with Prithviraj in Jeethu Joseph's upcoming thriller Memories. Prithviraj will don the role of a police officer while Mia would enact as a journalist in the movie.

Miya who is much delighted to be a part of the project, will join the Jeethu and his team who has shown his mettle behind the camera as director with his previous flicks Detective, Mummy & Me and My Boss. His recent directorial venture 'My Boss', starring Dileep and Mamta Mohandas have turned to be a grand success with a gross collection of 23.5 Crores.

Memories, packed with a suspenseful story will revolve around a murder and its investigation. Prithviraj is currently busy shooting for 'Mumbai Police' directed by Rosshan Andrrews. The movie will also feature Jayasurya, Rahman and Meera Nandan. He will join the location of Memories in April after winding up the existing assignments. The rest of the cast of the movie is yet to be decided.

This movie would be a dream project for Miya who kept her presence in Oru Small Family, Dr Love, Navagatharkku Swagatham and Ee Adutha Kaalathu. Shuttling from locations of Red Wine, 6B Paradise and Nayana, Miya wish to keep her smile bright in 2013 which will prove to keep her 'Memories' alive.

Prithviraj's upcoming movies Celluloid and Aurangazeb are being slated for release in February and 17th May respectively.