Memories malayalam movie story - Its a thriller

Memories malayalam movie story is given here.'Memories' is the upcoming Malayalam movie release for Prithviraj. He is doing the role of Police officer in this movie.'Memories' is an action thriller film and is directed by Jeethu Joseph. Meghna Raj and Mia are doing the two heroines in the movie. This article is about the story of Prithvira's 'Memories.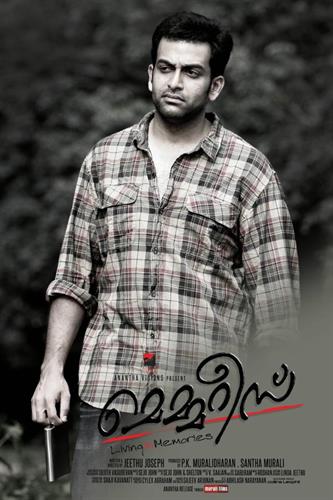 'Memories' is Prithviraj's next Malayalam film to be released. The shooting of 'Memories' is over and now other pre-release works are remaining. After the roaring successes of his latest Malayalam movies 'Mumbai Police', 'Ayalaum Njanum Thammil' and 'Celluloid' there is a great expectation on this new release of Prithviraj.

Prithviraj has improved a lot as an actor in these movies and his performance will be another thing everybody looking for in the movie. He is again doing the role of a Police officer in this movie. He was seen as Police Officer in his latest hits- 'Aurangzeb' in Bollywood and 'Mumbai Police' in Mollywood. 'Memories' is directed by Jeethu Joseph and will be an action thriller movie.

The story of 'Memories' is about a Police officer named Sam Alex. As said by the director 'Memories', it will be an unusual Police story Malayalam film world never seen before. Meghna Raj and Mia George are the two heroines in the movie. Other casts in 'Memories' include Vijayaraghavan, Nedumudi Venu, Rahul Madhav, Sreejith Ravi, Vanitha Krishnachandran, Suresh Krishna and Madhupal. 'Memories' is packed with a both family drama and thrilling Police investigation.

Sam Alex is an alcoholic due to some unforgettable events happened in his life in the past. He is still bearing its pain. He gets a new assignment on investigating a case and from there onwards movie changes its path. Meghna Raj is doing the role of his wife in the movie. Meghna Raj has become a notable figure through her performance in movie like 'Beautiful', 'Namukk Parkkan' etc. Mia George is an upcoming actress. So far she has done two movies in Malayalam- 'Chettayis' and 'Oru Small Family '

Jeethu Joseph started his film carrier with Suresh Gopi starrer 'Detective'. His second movie 'Mummy and Me' received rave reviews all over. His latest movie 'My Boss' was a super hit comedy film starring Dileep and Mamtha Mohandas in the lead roles. The director is looking for yet another super hit through 'Memories'.

'Memories' is produced by P.K Muralidharan and Santha Murali under the banner of Anantha Vision. Sujith Vasudev is the cinematographer and Sejo John is the music director of 'Memories'.

Prithviraj is on song after the successes of all his latest movies in 2012 and 2013. Moreover the fine performances of Prithviraj in those movies is rewarded by various media, audience and critics. Prithviraj won the award for Best Actor in Malayalam film last year. .Prithviraj's new look in the posters of 'Memories' has further increased the expectation on the movie and his performance. Now that the shooting of 'Memories' is over it will be released soon.