Kuttiyum Kolum malayalam movie - Guinness pakru turns director

Kuttiyum Kolum Malayalam movie preview is given here. Kuttiyum kolum Malayalam movie is the directorial debut of Guinness Pakru Aka Ajayan. Ansar has produced the movie Kuttiyum Kolum under the banner united films.


What is important in achieving vantage ground? Has height of a man any influence on gaining great achievement? Malayalam comic actor Guinness Pakru has broken the rules by creating wonders. Once he had startle the world by doing the role of heroin a movie "Albuthadhweep" making him into World Guinness Records being the shortest hero in movies. Now the real marvel man turns director for the movie "Kuttiyum Kolum".


Guinness Pakru - A short profile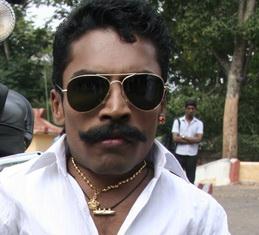 AjayKumar, known as Unda Pakru or Guinness Pakru is one of the busiest comedy actor in malayalam movie industry. He has made an entry into World Guinness record for being shortest hero in a full length movie.(Height 2 feet and 6 inch, that is 76 cm). He has played the lead role in movie titled Albuthadweep directed by Vinayan, which made him world popular. Guinness Pakru hails from Aymanam, Kerala. He is a BA graduate with economics and has diploma in computer science. Ajayan has started his career as mimicry artist and later moved to films. He has achieved Kerala state film award as well as Tamilnadu state film award for movies Albuthadweep and Dishyum respectively.


Kuttiyum Kolum Malayalam movie story

Kuttiyum Kolum is a famous play in villages. The story of the movie has developed from the play Kuttiyum Kolum. Usually children do play Kuttiyum Kolum, so the movie is expected to tell the story of children. Guinness Pakru has penned the story of the movie.


Motive to Guinness Pakru to make the movie Kuttiyum Kolum

Guinness Pakru wrote the story of the movie Kuttiyum Kolum and had shown it to director Vinayan. Director Vinayan gave him full support and encouraged him. According to the Guinness Pakru, after hearing the story Vinayan said that "You can do it", which gave him courage to take the role of director.


Kuttiyum Kolum Malayalam movie crew

The movie Kuttiyum Kolum will be produced by Ansar under the banner united films. The director Guiness Pakru himself has penned the story of the movie Kuttiyum Kolum. Suresh and Satheesh will handle the script of the movie who have also done the script for My big fan Ramu. Pakru will do a role in the movie, but about other roles are not decided yet.

The shooting of the movie will start in October at Kollankode, Palakkad. The Pooja function of the movie Kuttiyum Kolum is scheduled on September 5 2012 at Kochi and expected to hit theaters in 2013.