Memories: Prithviraj's spick and span thriller

Memories malayalam movie directed by Jeethu Joseph is a spick-n-span action thriller which features Prithviraj, Miya George and Meghana Raj in lead. After the smashing success of his previous flick 'My Boss', Jithu Joseph is up with his next project 'Memories' which carries all the elements of an entertainer. The pooja of the movie was held a day ago.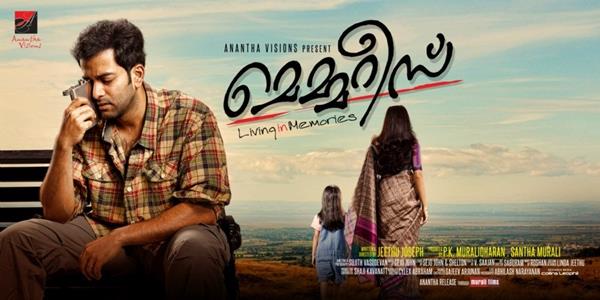 After the majestic success of 'My Boss', director Jithu Joseph is on cloud nine getting huge applause from around each corner. With all amenities set, Jithu Joseph is gearing up to start the work of his next project from May onwards. Titled Memories, the movie is a fresh packed action thriller, which revolves around the life of a police officer.

Featuring Prithviraj in lead, Memories is a family drama embedded with all the elements of an entertainer. Mia Geroge and Meghna Raj would play the heroine roles. Even being a hero oriented theme, the movie gives ample space for them to play integral role with Meghana donning the character of Prithviraj's wife.

'Memories' zooms into the life of a man who hangs to his past and is forced to deal with his present. Sam Alex (Prithviraj) is a police officer who is in fact a drunkard. His hands used to tremble if not getting the drink in right time. As a police officer he helms an investigation which in turn unfolds a mystery which takes the story to the next phase. Filled with suspense and thrills, 'Memories' will be a visual treat for movie lovers.

Riding high with recent success and shouldering the state award for the best actor, Prithviraj has abundant scope for performance in the movie. Nedumudi Venu, Madhupal, Vijayaraghavan, Rahul Madhav, Suresh Krishna, Sreejith Ravi, Rahul Madhav, Aneesh G Menon and Vanitha Krishnachandran would lend their face for prominent characters in the movie.

The costumes of the movie will be set by Linta, wife of director Jithu Joseph. With an experience working with movies like Detective, Mummy and Me, MY Boss, Linta got much appreciation for arranging the costumers for Mamta Mohandas in My Boss. As Jeethu needed all the costumes to be arranged before the shoot, taking it as a challenge Linta managed to stitch them before time. As the story of the movie travels through an unusual mood, the costumes too carry innovative designs.

Memories will be blessed with the presence of Sejo John who would move his magical fingers to set the music for the movie along with penning the lyircs. He worked with Jeethu for his previous hits 'Mummy and Me' and 'My Boss'. Produced by Santha Murali & P.K Muralidharan under the banner of Anantha Vision, Memories will start rolling at Kochi from next month.