Rejith Menon blessed with 'Ninaithathu Yaaro', makes a flamboyant entry

Rejith Menon would be in cloud nine after making his appearance in 'Ninaithathu Yaaro', an upcoming tamil movie directed by Vikraman. Rejith would pair with another malayali Nimisha Suresh who is also set for her acting debut in tamil. Director Vikraman who had delivered several hits in the past is looking forward with his 17th movie which is to a true love story.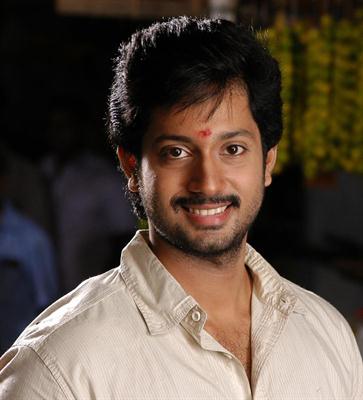 The young chap Rejith Menon is shuttling from location to location due to his tight schedule. After securing a mechanical engineering degree, Rejith is slowly getting busy with a handful of projects in kitty. Even though the actor has appeared only in less than 10 movies, the time was much enough for him to create a space in the heart of millions as a passionate actor.

If it was director Kamal who introduced him to the world of entertainment, known film maker Vikraman much confident about Rejith's acting skill is launching him before the tamil audience through 'Ninaithathu Yaaro'. The 17th movie from the director, 'Ninaithathu Yaaro' is expected to enhance the career graph of the actor.

Rejith who plays the role of an assistant director in the movie speaks a lot about his Tamil debut. Really on cloud nine, Rejith shares his excitement with SpiderKerala, "Ninaithathu Yaaro" is the 17th movie of Vikraman Sir and I am happy to be chosen as the lead character. This unique love story is about how love can help you to cross dreadful situations and be a winner in life." Rejith said. As Vikraman has proved to be the backbone for bringing the best out of made them leading actors, Rejith too hope that her could recreate the magic in his career also.

More interestingly Nimisha Suresh too feels lucky to make her debut in tamil. Acted in few movies including Pachakuthira, Mayavi, Doctor Love etc, Nimisha too feel "Ninaithathu Yaaro" as a stepping stone in her acting career. Meanwhile Rejith cannot stay away from malayalam movie industry with a couple of projects going ahead.



The actor who has already worked with legendary directors including Kamal, I V Sasi, Joshiy, Rajasenan and T K Rajeev Kumar, keeps high ambition about his upcoming projects in malayalam. Rejith would appear as Binoy with a never seen getup in Ranjan Promod's Rose Guitarinal.

His debut venture 'Goal' had a refreshing theme as the actor got noticed with his young charming look and talk. Only very less film makers have tried to unwrap the potential of this actor. His performance in Doctor Love, Sevens and Innanu Aa Kalyanam and Chapters were much appreciable.

Rejith who looks gorgeous in any clothing will also be featured in T.K Rajeev Kumar's 'Up & Down: Mukalil Oral Undu'. His next 'Tourist Home', with no cuts and pack ups which has been wrapped in a single shot will reach theaters soon. His days in St. Joseph's College, Chennai for graduation turns lucky for the actor as the hero of "Ninaithathu Yaaro" had to speak Tamil fluently.