Mohanlal and Vijay together in a tamil movie?

Do you wish to watch Mohanlal and Vijay together in a tamil movie? If you do admire Mohanlal or Vijay, this would be great news. Heard from the grapevine a leading daily reported that Malayalam superstar Mohanlal and Ilayathalapathy Vijay will be seen in a tamil movie while initial discussions have taken place. If the news is to be believed, it would be the best chance for the millions of fans of both actors to get hooked to it.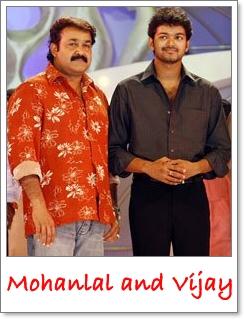 It would be a great new when 2 topmost actors in a film industry come together to share the screen space between them. But it would be more delightful when the leading actors from two different film industries are highly pushed to work jointly. Heard from the grapevine, it is reported that malayalam megestar Mohanlal and tamil superstar Ilayadalapathy Vijay are joining for a tamil movie.

As it is an initial report which appeared in a leading newspaper, we are expecting official statements regarding the project. Mohanlal who is had an enthralling 2012 is riding high with back to back hits. With no surprise the actor will a part of more than 5 projects other than Karmayodha and Lokpal which are slated to get released during Christmas and 2013 January respectively. Mohanlal already had a Kollywood outing with Aishwarya Bachchan in Iruvar.

Viyay is also climbing heights making all what he adore with diamond hits. After enthralling the audience with Velayudham, the actor had made success to Nanban while his recent movie Thuppakki which was released a couple of days ago is doing good business at the box office. He also had done a cameo role in bollywood movie Rowdy Rathore along with Akshay Kumar.

Vijay already had committed a couple of movies which include Onbadhula Guru with special appearance and an untitled project with A.L.Vijay. Earlier there were reports that Vijay would be doing a malayalam movie titled as 'Karuthan', but the news didn't had much stability.

According to available information the first round table discussion between the lead actors has passed the test and Vijay was excited to work with Mohanlal. It is also reported that Vijay who was much thrilled and wish to cherish his dream come true to dance with Mohanlal. The actors would have a second meeting soon to discuss about the script of the movie and other details.

As many regional actors and actresses are appearing in bollywood and also stepping in to other regional film industry, the current news circulated related to Mohanlal and Vijay would also happen if things go fine. As Vijay do have a large lineup of fans in Kerala too, it would be much welcoming for them to see 2 kings come together. Meanwhile Mohanlal will be having a bright 2013 with a handful of movies including Lokpal, Ladies and Gentle Man, Lucifer, Red Wine, Mr.Fraud, Billion Dollar Raja and Witch Craft.