Kerala Strikers vs Bengal Tigers Live Streaming CCL 2013 on Reelax

Watch Kerala Strikers vs Bengal Tigers CCL 2013 live streaming online available on Reelax website @ http://reelax.in/live.php. Started on 9th February 2013 at Kochi Jawaharlal Nehru Stadium, the Celebrity Cricket League Season 3 (CCL 3) had gained much popularity as it really added a touch of professionalism giving all the spirit of an international game.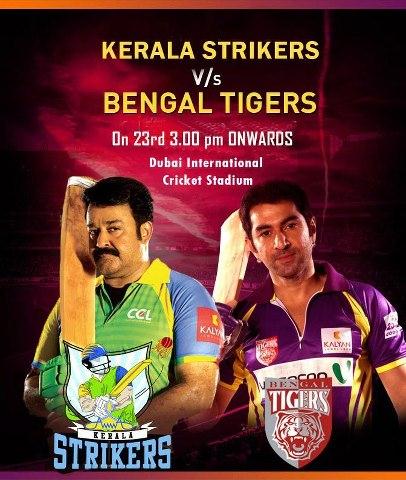 With the Celebrity Cricket League season 3 reaching the next stage, the excitement and thrill are on the peak with movie fans waiting to welcome Bollywood superstar Salman Khan and Malayalam film icon Mohanlal who would be reaching Dubai with an army of Indian actors. After being a host for the 2012 CCL, cricket is back in UAE with 2 matched to be played on 23rd February at the Dubai International Stadium. The qualifying matches which are played in Twenty-20 format between Kerala Strikers and Bengal Tigers will be played at 4.30 PM while Mumbai Heroes will play against Chennai Rhinos on the same day starting at 8.30 PM.

Leading bollywood actress Chitrangada Singh, Kangna Ranaut, Nargis Fakhri, Shruthi Hassan and South Indian beauty Bhavana will stay as the main attraction cheering up for their respective teams. For both Kerala Strikers and Bengal Tigers the match is too crucial as both teams expect nothing more than a win. After playing 2 of their respective matches, Kerala Strikers has won one while Bengal Tigers lost both matches. If Kerala Strikers want to survive in the tournament, the team should make a thrilling win and also defeat Karnataka Bulldozers in the match which is scheduled to play on 2nd March at Chennai.

Then Eight teams participating in CCL 3(2013) are Chennai Rhinos, Telugu Warriors, Kerala Strikers, Veer Marathi, Karnataka Bulldozers, Mumbai Heroes, Bengal Tigers and Bhojpuri Dabanggs. Celebrity Cricket League (CCL) born out of the brain of Hyderabadi entrepreneur Vishnu Vardhan Induri, had become much popular as an international cricket tournament.

Kerala Strikers one of the top favourite in CCL 3 would put their power on field pitting best players in the team. Shouldered by super star Mohanlal, Amma Kerala Strikers is expected to do some fireworks with Rajeev Pillai, Sumesh B and Vivek Gopan who are capable of smashing the ball out of the stadium. So don't miss to catch all the cricketing actions to be played between Kerala Strikers and Bengal Strikers.


Kerala Strikers

Mohanlal (captain), Indrajith (vice-captain), Rajeev Pillai, Nivin Pauly, Vivek Gopan, Manikuttan, Bineesh Kodiyeri, Arun Benny, Madhan Mohan, Arjun Nandakumar, Santhosh Sleeba, Ragendu, Suresh Nair, Saiju Kurup, Prajod Kalabhavan, Riaz Khan, Shafiqu Rahiman P. A. and Rahul Madhav. Bhavana and Mamta Mohandas will be the brand ambassador of the team.


Bengal Tigers

Jeet(c), Jisshu, Srijit, Amitabh, Indrajit, Suman, Kaushik, Silajit, Tabun, Saugata, Vivek, Babul, Sandy, Indraneil, Joy, Raja, Indrasish and Ruban.


Kerala Strikers vs Bengal Strickers Live Match

The CCL T20 match between Kerala strikers and Bengal Strikers which is scheduled to play at International Stadium Dubai will be telecast live on various channels including Asianet and Star Bengala on 23rd February 2013 from 4.30 pm onwards. If you are out of home working in office and wish to enjoy the excitement and thrills, do watch the match live streaming online on http://reelax.in/live.