Kerala Strikers vs Karnataka Bulldozers Live Streaming CCL 2013 on Reelax

Watch Kerala Strikers vs Karnataka CCL 2013 live streaming online available on Reelax website @ http://reelax.in/live.php. The match between Kerala Strikers and Karnataka Bulldozers will be played at M.A Chidambaram Stadium on 2nd March, Saturday from 3.00 PM onwards. Asianet and Suvarna channels will telecast the match live while live score updates is made possible via official website www.ccl.in.


The third edition of Celebrity Cricket League (CCL) powered by all superstars of Indian film industry has already become a visual treat for the millions of fan followers who had experienced all the thrills and excitements shown on the field. With the first toss held on 9th February 2013 at Kochi Jawaharlal Nehru Stadium, the CCL 3 has grown up to a stage really wearing the skin of a professional international game.

After the matches played at Dubai followed by Ranchi, the time is to look forward for the star war to be held at Chennai on 2nd March 2013. The day will witness the clash of the two leading teams competing for the top spot. Karnataka Bulldozers which already had won 2 of their matches has secured the first position in the points table with 5 points while Kerala Strikers is in number 2 with 4 points in their kitty.

Amma Kerala Strikers, the team from Kerala is one among the 8 teams which do carry possibility of winning 2013 edition title. Power packed with hard hitters and top bowlers, Kerala Strikers did have shown their mettle in the previous match by crushing down Bengal Tigers in a crucial match. The team shouldered by superstar Mohanlal has a long line of all-rounders capable of dipping any team to under waters. It was the fireworks of Rajeev Pillai and Rakendu which made the team to build a mammoth total giving less opportunity for the Bengal Tigers to reach up.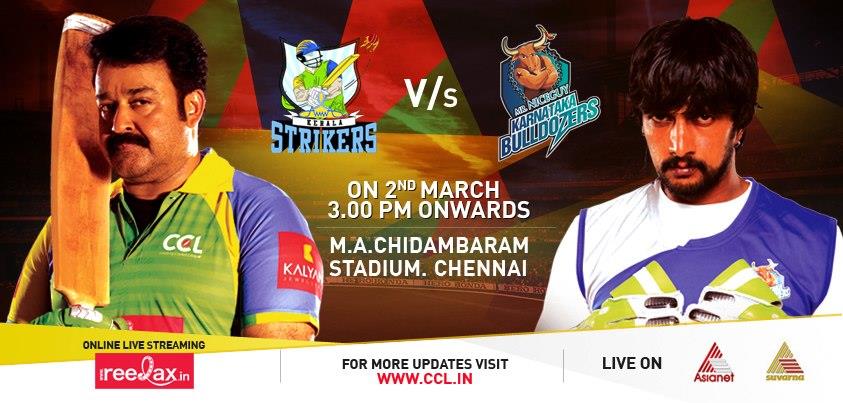 On the other side Karnataka Bulldozers headed by Sudeep has squeezed its opponents leaving no space to touch the target. Players like Dhruva, Manjunath and Karthik who had played a key role in the previous match against Telugu Warriors would have to keep the pace against the Kerala Strikers. The eight teams participating in CCL 3(2013) are Chennai Rhinos, Telugu Warriors, Kerala Strikers, Veer Marathi, Karnataka Bulldozers, Mumbai Heroes, Bengal Tigers and Bhojpuri Dabanggs.


Kerala Strikers

Mohanlal (captain), Indrajith (vice-captain), Rajeev Pillai, Nivin Pauly, Vivek Gopan, Manikuttan, Bineesh Kodiyeri, Arun Benny, Madhan Mohan, Arjun Nandakumar, Santhosh Sleeba, Ragendu, Suresh Nair, Saiju Kurup, Prajod Kalabhavan, Riaz Khan, Shafiqu Rahiman P. A. and Rahul Madhav.


Karnataka Bulldozers

Dhruv, Shudeep, Rahul, Pradeep, Saurav, Chandra, Vishwas, Karthik, Rahul, Chiranjeev, Bhaskar, Bhushan, Tarun, Sudhir, Rajeev and Dharshan.


Kerala Strikers vs Bengal Strikers Live Match

Even though being the first team to enter the Semi Final, Karnataka Bulldozers will not give their confidence for the match against Kerala team. The CCL T20 match between Kerala Strikers and Karnataka Bulldozers scheduled to be held at M.A Chidambaram Stadium Chennai will have live telecast live on various TV channels including Asianet and Suvarna on 2nd March 2013 from 3.00 pm onwards. So don't miss to watch all the cricketing actions in the match to be played between Kerala Strikers and Karnataka Bulldozers which will be live streamed online http://reelax.in/live.