Kochi 1st ODI India vs West Indies cricket match online ticket booking and purchase available

The online ticket booking and purchase for India vs West Indies First One Day International Cricket Match at Kochi is now available through the official website of Federal Bank Limited. Read the below article to get details of the ticket availability and price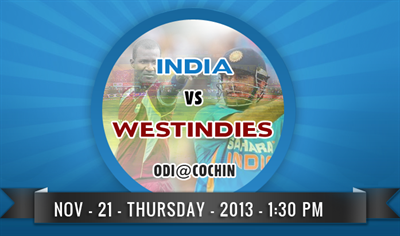 India vs West Indies first one day international cricket will be played at Kochi Jawahar lal Nehru international Stadium on 21st November 2013. Kochi International Stadium is a fortunate stadium for the Indian Cricket Team. They have won most of the matches played here.

Ticket for the match is now available for online purchase through federal bank. The online purchase can be made from the official website of Federal Bank Limited, www.federalbank.co.in. online purchase can be made till 19th of this month. Use your credit card or debit card or internet banking account to make the purchase. Gallery ticket is not available for online purchase and will be available in selected branches of Federal Bank.


Ticket Price
AC Box – Rs 3000
Vantage Chair – Rs 2000
Premium Chair – Rs 1000
Chair – Rs 500
Gallery – Rs 200
How to buy ticket online

Online ticket of the 1st ODI between India and West Indies is now available in the official website site of Federal bank limited, www.federalbank.co.in. You can select which ticket you want to buy. One person can buy a maximum of 5 tickets on his identity. You have to enter your personal Details, DOB, Email, phone number, address and an identification number. It can be driving license, passport, voter's card, students ID card or PAN card. A confirmation slip will be received after making the payment. You have to produce this confirmation slip at Palarivattom Federal Bank between 18 – 21 March to get the original tickets. Entry into the stadium will not be permitted without the original ticket and confirmation slip cannot be used as an entry pass. You also have to submit the identity card while availing the original ticket from the Bank.