Bhaiya Bhaiya: A movie themed on brotherhood

Bhaiya Bhaiya malayalam movie directed by Johny Antony featuring Kunchacko Boban and Biju Menon in lead started rolling at Kottayam. Scripted by Benny P Nayarambalam, the story of the movie zooms into the migrant workers in Kerala. Nisha Aggarwal and Ashwathi Lal would play the love interest of Kunchacko Boban and Biju Menon respectively. The star cast is supported by Innocent and Sudeer.


Is it hard for a film script writer to find a theme which could be later convert into a beautiful screenplay? The answer will be a big No. Malayalam film industry is blessed with screenwriters who are much brilliant in finding interesting and innovative stories which would keep the viewers intact.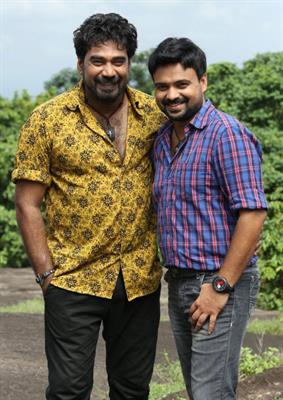 Benny P Nayarambalam is such a person who handles his job with perfection while changing the tone of work according to the trends. The latest in his kitty would be 'Bhaiya Bhaiya' directed by Johny Antony. As from the hands of Benny, story of the movie is about migrant workers in Kerala.

Contractor Chacko (Innocent) is a busy man who is much active in his work. During the time, he brings a 12-year-old orphan boy Baburam Chatterjee (Biju Menon) from Bengal grows him up as his own son. This boy who is considered as the first migrant in Kerala is being nurtured along with Chacko's son Babu (Kunchacko Boban). After being grown-up, Kunchacko works as an agent recruiting people from Bengal.

With the help of Biju Menon, many are being employed at various sites. As one worker dies at a construction site, both of them have to accompany the body which should reach Bengal. While during the journey, they have to face various problems which form the crux of the movie. A major part of the movie is extensively shot in West Begal.

Nisha Aggarwal and Ashwathi Lal would play the love interest of Kunchacko Boban and Biju Menon respectively. Dracula' fame Sudheer Babu will be making a majestic comeback with this movie. He plays the role of Manikandan, a person with shades of a negative character. The actor who was last seen in the role of Dracula has increased 10 kg of weight and also had grown a thick moustache.

Produced by Howli Pottur under the banner of Dream team production, 'Bhaiya Bhaiya' would be a clean family entertainer. The movie themed around brotherhood put forward a message; whichever language we speak, all of us are Indians. Kunchacko Boban and Biju Menon have already proved their own screen chemistry in movies through movies like 'Romans', 'Ordinary' and '101 Wedding' .