Kerala polytechnic trial allotment 2014 published

Kerala polytechnic admission 2014 trial allotment has been published at the official website. The directorate of Technical Education, Trivandrum has published the trial allotment to Diploma in Engineering/Technology and Diploma in Commercial Practice / Management for the academic Year 2014-15 in the polytechnics of Kerala State. To view the trial allotment, applicant should navigate to candidate login section and Login by entering your application number and password there. After the period assigned for rev


The directorate of Technical Education, Trivandrum has published the provisional ranked list and trial allotment to Diploma in Engineering/Technology and Diploma in Commercial Practice / Management for the academic Year 2014-15 in the polytechnics of Kerala State. To view the individual rank, applicant should visit the official website http://polyadmission.org/ navigate to candidate login section and Login by entering your application number and password. Candidates have to verify the Provisional Rank lists and should get satisfied themselves regarding their position in the list.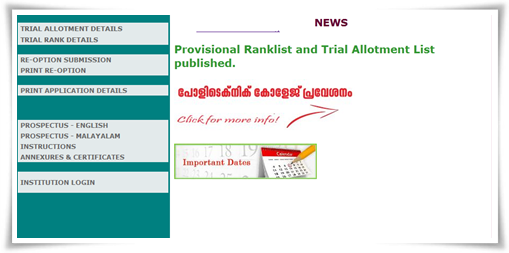 The candidate can also check the trial allotment from website which will give an idea about the chances of getting allotment to a programme and college based on options given and the rank of the candidate. If required, candidates must use the facility to submit revised options and report it the Principal of the Polytechnic College within 3 days for necessary action. Revised options received afterward will not be entertained.

After the period assigned for revising options, the final Rank list will be prepared and published in the website. Candidates can verify their individual rank in the list through the link provided in the website by using their Application Number and Registration Number. The final Rank list and allotment will be awarded based on the Rank of the candidate & Options/Revised options received.


Kerala polytechnic admission schedule 2014

Applicants for the polytechnic admission 2014, should keep in mind the following dates.

Publication of Trial Allotment - 13.06.2014


First allotment - 18.06.2014


Admission based on select list - 19.06.2014 - 21.06.2014


Final rank list & select list - 03.07.2014


First counseling and admission - 25.06.2014 - 27.06.2014


Closing of Admission - 22.06.2014


Commencement of classes - 30.06.2014

The inclusion of name in the rank list will not permit the applicant admission for the programme, if not the applicant satisfies the rules and regulations set concerning the eligibility for admission as lay down in the Prospectus. If the any candidate has furnished false particulars on the application, he/she would not get chance for admission as it would be withdrawn.

Students can check about their allotment status by visiting the official website directorate of Technical Education.
http:// http://polyadmission.org/