KEAM 2014 result highlights - Boys bag top 10 ranks

KEAM 2014 result highlights and top 10 rank holders' details are given here. The Engineering 2014 exam result for admission to various courses has been published on 15th June at the Office of the Commissioner for Entrance Examinations and on the website. As the admissions to the engineering courses will be based on the KEAM 2014 Rank lists, students can check the results online.


The rank list for admission to Engineering Courses 2014 has been published. The results will be available on the website of the Commissioner for Entrance Examinations www.cee.kerala.gov.in. Out of the 74307 candidates qualified in the Engineering Entrance Examination, 57081 candidates have submitted their marks in the qualifying examination to the Commissioner for Entrance Examinations.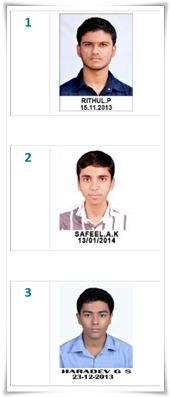 The top 10 ranks were bagged by boys with Rithul P of Malappuram won the first rank while Safeel A K (Malappuram) and Haradev G S (Kollam) made into the top slot by winning second and third ranks respectively.


KEAM 2014 Toppers

1. Rithul P
2. Safeel A K
3. Haradev G S
4. Nithin M Pai
5. Vivek Jacob Mathai
6. Farzin K
7. Alen Thelliyil Augustine
8. Muhammed Ahsan K V
9. Pranav S
10. Anand U R

The entrance examination was conducted at 332 venues in all the 14 Districts centers of the State along with New Delhi, Mumbai, Ranchi and in Dubai. Out of 103398 candidates appeared for the exam, 74307 got qualified. 57081 candidates were included in the 2014 Engineering rank list. Out of the first 100 candidates who figured in the Engineering Rank List, 86 are boys and 14 girls.

Students who are included in the Kerala Medical (Except MBBS/BDS)/Engineering/Architecture entrance examination rank lists can register their options on the CEE website from 16th June 2014. Students have to enter their Roll No and Application No to access their KEAM 2014 Engineering Rank.

The Engineering Rank list 2014 has been prepared based on a criterion by giving equal weightage (50:50) to the scores obtained in the Entrance Examination for Engineering (Paper I & Paper II) and the grade/marks obtained for Mathematics, Physics and Chemistry/Computer Science/Biotechnology/Biology put together in the Second year of the qualifying examination (Plus Two or equivalent) after effecting the standardization methodology.

The office of the Commissioner for Entrance Examinations will be setting up the 'Option Facilitation Centres' (OFC) and 'Help Desks' (HD) with internet facility all through the State during the period. This facility is being introduced to provide essential help to the candidates for registration of options by the candidates.