KEAM 214 online Option registration procedure started

KEAM 2014 online option registration procedure has started at the CEE website www.cee.kerala.gov.in. KEAM 214 online option registration for Engineering, Architecture, MBBS, BDS, Ayurveda, Homoeo, Siddha, Agriculture, Forestry, Veterinary and Fisheries should be completed before 23rd June 2014.


The Commissioner of Entrance Examinations has made all arrangements to facilitate the registration of Options for allotment and admission to the Engineering/Medical/Architecture courses, Kerala for the academic year 2014-15. As the major rank lists got published, the registration process for the centralized allotment process will commence on 17th June 2014.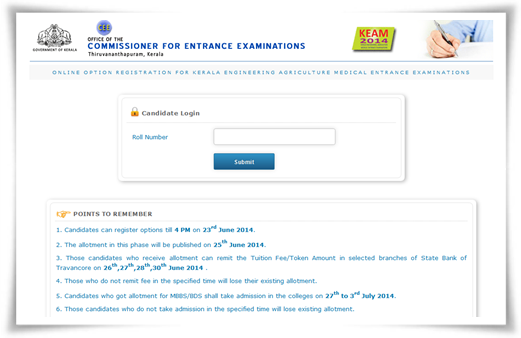 All candidates seeking admission to the professional colleges in Kerala should have an understanding about the centralized allotment process (CAP) before the working with the KEAM 214 option registration system. It is very important to know the instructions of the KEAM 214 option registration which will help the students to enter in to the admission process without fear.

The allotments to Professional Degree courses in Kerala undertaken centrally by the Commissioner for Entrance Examinations is done through a single window system (SWS) which will enable the candidates to opt for multiple courses and colleges based on a single registration. Candidates, who got included in Kerala Medical (Except MBBS/BDS)/Engineering/Architecture Entrance Examination rank lists, can register their options on the website www.cee.kerala.gov.in from 17.06.2014 to 23.06.2014, 5 pm.


KEAM 2014 Allotment Process

Candidates who do not register their options within the specific time will not be considered for allotment. As registering of Options for courses and colleges is a pre-requisite for allotments to professional degree courses, eligible candidates must have to do the process before the stipulated time.

The office of the Commissioner for Entrance Examinations has set up the 'Option Facilitation Centres' (OFC) and 'Help Desks' (HD) with internet facility throughout the State during the period. This facility is introduced to provide necessary help to the candidates for registration of options by the candidates. The contact details of such centres are available on the website, http://cee.kerala.gov.in.


KEAM allotment 2014 schedule

The allotment timetable will help the students and parents to know the important dates regarding the Admission Process.

Online option registration - 17/06/2014


Trial allotment - 20/06/2014


Closing of option registration - 23/06/2013, 5 PM


1st allotment - 25/06/2014


Payment of fee (SBT) - 26/06/2014 to 03/07/2014


Joining college for Admission (BBS/BDS) - 26/06/2014 to 03/07/2014

The schedule for further allotments will be informed in due course.

Allotment Notification:http://cee.kerala.gov.in/keam2014/help/16.06.2014AllotmentNotificatiion_Engl.pdf
Prospectus 2014:http://cee.kerala.gov.in/keam2014/help/keam2014_prospectus.pdf
KEAM Help Desk:http://cee.kerala.gov.in/keam2014/help/keam2014_helpdesk.pdf
Facilitation Centres:http://cee.kerala.gov.in/keam2014/help/keam2014facilcentrelist.pdf

For more details about the KEAM Allotment 2014 and online registration submission process do visit the official website.
http://cee.kerala.gov.in