AMSFNCK B.Sc. Nursing first allotment 2014 list on 1st July

AMSFNCK Kerala B.Sc. Nursing first allotment 2014 list will be published on 1st July. Students who have applied for the B.Sc nursing admission can check the allotment status from the official portal of AMSFNCK. If seats are available in the first allotment, students should download the allotment order from the website and join the college within the notified date and time schedule by remitting the fee.


The Association of the Managements of Self Financing Nursing Colleges of Kerala (AMSFNCK) will publish the first allotment list on 1st July for the B.Sc nursing admission 2014 -15. The first allotment will be declared only after hearing from the students who wanted some changes in their allotment. As the provincial rank list got published on 27th June, students who need revision are asked to intimate before 30th June 2014 by emailing to admission2014@amsfnck.com. While mailing, the name of the applicant and the application number should be mentioned as the subject.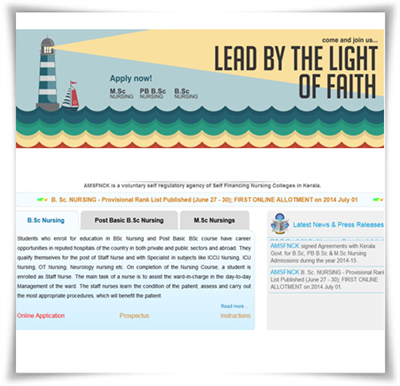 As the first allotment gets published, if a seat is available in the preferred College, the applicant should have to download an allotment order from the website. Students who receive the allotment must join the college within the notified date and time schedule.

After the allotment process, students who got admitted have to pay the fee and produce the original documents along with the document to prove the category before the college principal. Special fees and hostel fees should also be paid at the time of admission. Students can pay the fees through DD taken in favour of the College of their choice.

If the essential documents are not produced, the admission of such candidate will be cancelled. Those students who fail to join the college before the specific date would lose their admittance. After the initial allotment, a common merit list for all the Colleges will be published on the website.

The list will also be published on the Notice Board of the participating Colleges along with category-wise merit lists. With four rounds of 'online' admissions, the centralized personal counseling and admission for the vacancies will be done as a part of the procedure. AMSFNCK will later announce the venue and date of counseling later through a notification. Students who pursue their education for the BSc Nursing course have career opportunities in reputed hospitals of the country.