Rimi Tomy Malayalam Play Back Singer - Profile and Biography

Rimi Tomy malayalam play back singer profile and biography is given here. Rimi Tomy, a well known female play back singer who hails from the central Kerala named Pala in Kottayam district is now one of the most precious singers of Kerala. Read this article to know more about Rimi Tomy.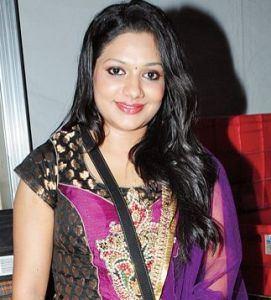 Introduction
Rimi Tomy, a well known female play back singer who hails from central Kerala named Pala in Kottayam district is one among the most precious singers of Kerala. The ability to subjugate the audience within a short time of her performance made her differ from other singers. Rimi made her debut in Malayalam through the movie Meesa Madhavan (2002) directed by Lal Jose. Till now, she has lent her voice to more than 100 films in different languages. As an anchor also she is famous and anchored in many reality shows and programs through different channels.


Family and Early life
Rimi Tomi was born on 22th September 1983 at Pala in Kottayam district. Her father late Tomy John is an Indian Army officer and her mother Rani Tomy is a house wife. She have a brother named Rinu and a sister Rinku. She had an inborn talent in music and her strong dedication to singing made her reach on the pinnacle position Malayalam Play back industry. On 27th April 2008 she was married to Royce, a business man by profession.


Career and Contributions
Rimi Tomi started her career on singing, at the time when she was doing her degree. She made her debut in Meesa Madhavan through the song 'Chingamasam Vannu Chernnal' directed by Lal Jose. Her first song itself was a hit and widely sung by the people even now. In the same year she got four more chance for singing and thus she was picked out by everyone. Later in 2013, she showed herself to be an actor through the movie 5 Sundarikal directed by Ashiq Abu. Her sweet voice is perfect match for both soft and fast numbers, which availed her for getting many singing opportunities. Some of her noted songs include 'Karale Karalinte Karale' of the movie Udayananu Tharam, 'Aaru mukham' of the movie Mulla, 'Enttaduke Vannadukkum' of Marykkundoru Kunjadu, 'Konji Konji Chirichal' of Avathram, 'Manassu Mayakki' movie Oru Marubhoomi Kadha etc. She also made her valuable contribution for the movies Villaliveera, Avatharam, Sound Thoma, Mayamohini, Body Guard, Chemistry etc.


As an anchor and judger
Not only in singing, but also Rimi proved herself to be a very good anchor and judge through different reality shows held in the television. Her unrivaled ability to subjugate the audience made her differ from others and gives her a remarkable place in anchoring in addition to her singing career. At present she is anchoring the famous program 'Onum Onum Moonu' on Mazhavil Manorama. Her remarkable ability to run the program, made the show one among the best programs by the Mazhavil Manorama. She also anchored in Rhythm on Kairali and Sunfeast delicious star singer on Asianet. Her deep knowledge in music gave her many opportunities for judging many music reality programs.