Onam offers and celebration 2015 at SS Hyundai, Mavelikara

Onam 2015 offers and celebration at SS Hyundai, Mavelikara. Onam is the most popular and biggest harvest festival of Kerala. During the Onam season 2015 Hyundai assures splendid offers for their customers. Read this article to know more about 2015 Onam offers and celebration at SS Hyundai, Mavelikara.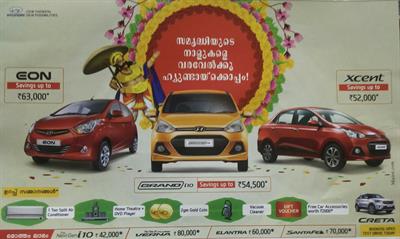 Onam is the most popular and biggest harvest festival of Kerala. It is believed that King Mahabali, a legendary king who ruled Kerala during ancient times will visit his place during Onam and people celebrate this with pride and enthusiasm. This is also declared as the state festival of the Gods Own Country.


2015 Onam offers at SS Hyundai

During the Onam season Hyundai assures splendid offers for their customers and all are eagerly waiting for it. This season you can save great percentage of money with every purchase of Hyundai car and more than that plenty of other assured gifts are awaiting you.

This company posses complete peace of mind with around 886 sales points and 1118 national service outlets across different cities. You can save up to Rs 63,000 for Hyundai EON, Rs 54,500 for Hyundai Grand i10, Rs 52,000 for Hyundai Xcent, Rs 42,000 for Hyundai The New 4S Fluidic Verna, Rs 60,000 for Hyundai Elantra and Rs 70,000 for Hyundai Santafe.

Along with this there are assured gifts in scratch card offer which is valid in Kerala for EON, i10, Grand i10, Xcent and Verna. You will get the chance to win 1 ton split air conditioner, DVD+ Home theater system, 2 gm gold coin, vacuum cleaner, free car accessories worth Rs 2,000 (gift voucher) in this offer. The features and specifications mentioned along with other offers are subjected to change without a prior notice. Terms and conditions are applied and all these offers are valid only for the month of August 2015. So why are you waiting for ? Pump it up and grab all the new limited exciting offers.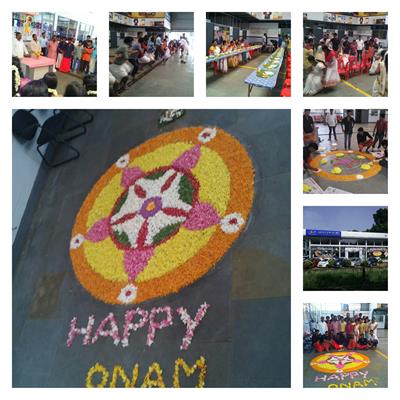 Onam Celebration at SS Hyundai

SS Hyundai, Mavelikara celebrated this years Onam in a grand manner. It included Onam songs, preparing flower carpet, Onam games and mouth watering sadhya. The current service manager "Thomas Varghese" and customer care manager "Renjith" took the initiative and the program ended up a success. The prior aim was to build up a bond between coworkers and strengthen their unit. This is a major lesson that other branches should also lookup for their better future and satisfied workers.

The program started by preparing a beautiful flower carpet. Then came the games section. The contributions made by all the people gathered added up the sweetness. Games included 'tug of war' (vadam vali), 'lemon and spoon race', 'breaking the pot' (kalam thalli pottikal), 'musical chair' (kasera kali) and 'sundarikku pottu thodal'. All the programs were very interesting and the whole team involved in this celebration. The presence of current CEO "Siby Sleeba" and MD "Sleeba Koshey" made the function more colourful. The celebration was winded up with a delicious Onam sadhya. The service manager specifies that he just want to see the smile in every worker and this year's celebration has done absolutely that.