Onam 2012 - Festival of Kerala

Onam is a dazzling festival of Malayalis, India. This page includes with the complete information in relates with tradition and culture of Onam. Scroll down to hit the importance, celebration and stuffs of Onam.


Onam is one of the greatest and famous festival in kerala. Do you have interest to know about some important details about Onam festival then check out here.


Colorful festival – Onam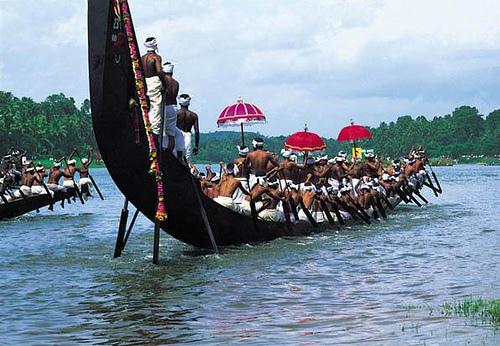 A celebration with apex enthusiasm and sparking bang for Malayalis is none other-than, Onam. Concerning this magnificent festival, our mind will engage with colorful waves of Rangoli designs, foods and cultural dances. But, only few of us may know the exclusive importance and history of Onam. In normal, this festival will be celebrated in mid of August to September, certainly in Malayalam month of Chingam. In 2012, Onam celebration date is in August 29. This celebration is squeezed with an average of about ten days. An apex aim of this carnival is to give esteem for their harvest. Subsequently, there is a belief that, this festival resembles the grand welcome for King Mahabali. He was the excellent emperor of Kerala. In every year, Malayalis used to celebrate this memorable day without any drop, even if they are in out of border. In straightforward, this festival is a blend of amusement.


Spotlight of Onam

The celebration of Onam festival includes with numerous spotlights. It relates with games, delicious food preparation, Pookkalam, Feasting, Shopping and few more. To enrich this festival, communities from different parts of world will eagerly dedicate themselves in celebrating this polite festival. One of the spot highlight is women's were used to wear Kerala Saree. This includes with White color mixed up with green, golden, red borders. In Onasadya Feast they used to have Kalan, Avial, Thoran, Kichady and few more.


Ceremony of Onam

In ten days of celebration, Rangoli plays a vital role. In every home, the combination of Rangoli and respective mixing color will be more unique and that's their specialty. To endorse, lots of competition will be arranged, the best participants will be honored. Few of the competition includes Snake Boat Race, Kaikottikali dance, preparation of recipes, Attakalam, KutuKutu, Ambeyyal and few more. Every day will be sending off by events and the last day will be grandly celebrated as, Thiru Onam.

Snake Boat Race in Onam: The Snake Boat Race can be also termed as, Vallamkali. It will grasp the entire tourists beside by its relish appearance and team work. In every year, this part will be the hottest spot for entire International tourists. This boat will be of about 100 feet long includes with the seating capacity of 150 men. The woods were made up of Kadamb. That's the reason it ends with cobra hood design. An unexpected obsession is men's are only allowed to touch this boat. This game will be lengthen of about 40 km. The champion group will be rewarded.

Rice Puttu in Onam : Rice Puttu is one of the notable dishes in their festival period of ten days. The ingredients like Coconut, Raw Rice, water and salt. It is simple to prepare. But, need to conscious while preparing. Finally, this will be served by five people.

Dance in Onam: On the tenth day, vibrating dances and colorful mixing of performance will fascinate the guests for sure. Kathakali is the most cherish dance in Onam festival. Most of the prospects in the stage show will results in resemble of either Ramayana or Mahabharata. So, the kids can know about ancient and prehistoric days. Thumbi Thullal is a gorgeous dance, performed by group of women centralized by a team member. The Kaikotti Kali dance, is a type of folk dance merely executed by women's.

Rangoli celebration in Onam: The Pookalam will be decorated with ten rings. Each and every ring will describe a unique God. The Thumba flower takes a pleasure in adding beauty to Rangoli. In addition to this Mukkutti, Chemparathy, Kakka Poovu and few more will be added.
Finally the celebration of Onam will be ended with fulfilled heart of joyfulness and cheerful.