Aparna Gopinath debuts with American-Born Confused Desi

Aparna Gopinath might be a new actress for the malayali audience getting casted in Martin Prakkat's malayalam movie ABCD (American Born Confused Desi). But Aparna is known for her stage performances in 'Six Characters in Search of an Author', 'Woyzeck' and much more. ABCD will be a landing opportunity for Aparna to share the screen space with Dulquer Salmaan and Jacob Gregory. Read more to know about Aparna and her career.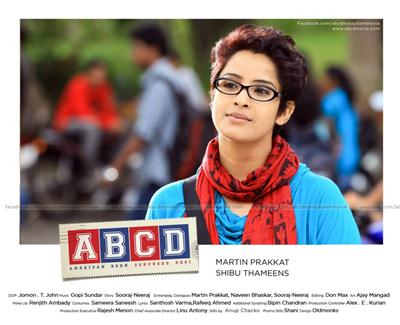 Aparna Gopinath might be at cloud nine making a way in for movie along with Dulquer Salmaan. After settling herself in stage plays and dances, Aparna was spotted by Martin Prakkat for his second venture ABCD (American Born Confused Desi). Aparna who had turned audience onto her side with majestic performance on stage is ready to woo the malayalis with her appearance in ABCD. The movie which speaks the tale of two youngsters and their journey to their motherland Kerala, Aparna is casted in a prominent role which appears throughout the movie.

Aparana Gopinath wearing black-rimmed glasses and cropped hair looks natural as a boho chic totally different in character in ABCD. Her role in the movie appearing in dazzling look is too impressive. She is much thrilled to make her debut with Dulquer Salmaan, who has risen to popularity as the son of Mammootty. Coming from dramatic environment, the actress is well known as a trained salsa dancer and tango mentor.

Aparana had not ever dreamt to work in movies as she loved her star value on stage. Pooled into another world, Aparana has gone through a different phase where she learned too many things which were new to her. Aparna who loves her first ever acting experience in ABCD, can't hide her happiness to be a part of malayalm movie industry which walk through the path of revival. With the arrival of new film makers, there had been novelty in its making attracting movie enthusiasts to flock into the theatres.

A native of Chennai, Aparna had showed her skills in various plays starting from her school life. Known about her acting brilliance, she was spotted by a director which gave the motivation to make a beginning much early. The actress feel acting in movies is much challenging compared to her performance on stage. Aparna found it very difficult to adjust with the voice modulation in the movie which was totally different from her experience performing live on stage.

Aparna had been a part of 'Koothu-P-Pattarai', a well known theatre group in Chennai and she had been a part of their plays including 'Six Chracters in Search of an Author', 'Woyzeck', 'Moonshine', 'Sky Toffee', and 'Sangadi Arinjo', a play based on seven short stories of Vaikom Muhammad Basheer. Aparna also had rendered her support on stage for many Shakespearean plays which portrayed her talents.

Other than acting, Aparna had made presence for various dance workshops set in Chennai and Kochi. She also too much initiative in reaching social dancing among the mass which is a unique dance form which is a combined version of hip-hop, broadway, western contemporary, disco and Jewish folk dance. Aparna who waits for the completion of her debut movie is aiming high to try with experimentation depending upon the future projects.