Nenmara Vallangi Vela 2013

Have you heard about the famous "Nenmara Vallangi Vela"? This article gives you the details of the famous 'Nenmara Vallangi Vela' celebrated at Nellikulangara Bhagavathy Temple of Palakkad district, Kerala. This is the biggest vela conducted in Kerala accompanied by large fireworks. Read more about Nenmara Vallangi Vela from the below article.


'Nemmara-Vallangi Vela' is the biggest of all velas held in Kerala. This 'vela' is a festival celebrated in the villages of the Palakkad and Thrissur districts during summer season. The main highlight of vela is fireworks. The festival begins with the traditional flag hoisting ceremony, 'Kodiyettam'. Various art forms like Karivela, Kummatti and Andivelare are performed during Nenmara Vallangi Vela. The vela is celebrated on the 20th day of 'Meenam', the month in the Malayalam era, which falls on the 1st week of April. This year Nenmara Vallangi Vela is celebrated on 3rd April. This festival is held like a competition between the two villages - Nenmara and Vallangi. Two competing groups, Nenmara and Vallangi, have their own temples but the vela is held at a common temple, the Nellikkulangara Temple. The festival starts ten days earlier to the actual day of Vela, with Kodiyettam, in the respective temples. It is believed that once the flags are been raised, the natives are not supposed to leave the village.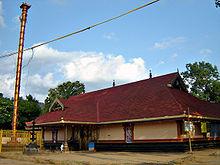 The Nenmara group starts its Vela from Nenmara Bhagavathy Temple and the Vallangi group from the Siva Temple. There are 11 to 21 elephants for each of the two groups. Both the groups have rituals in their own village and by evening, these groups reach the Nellikulangara Temple. There is an area of empty fields where the 'Ezhunnallippu' takes place. The field has a capacity enough to accommodate a large crowd.

Aana Pandal which is an arch-like structure, where the caparisoned elephants remain for some time is a very much attractive thing. Another Attractive feature of Nenmara Vallangi vela is the final fireworks. As both groups tries to get an upper hand in this segment, the 'Vedikettu' becomes a magnificent show.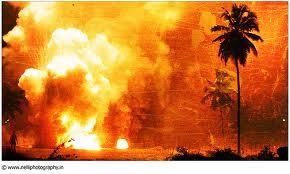 List of Elephants for Nenmara Vallangi Vela 2013

The selection of the elephants is another prestigious issue for both Nenmara and Vallangi groups. These two always compete to get the best elephants in Kerala, by paying high amount. Sometimes, they try to get the same elephant, resulting in unrealistic bidding and once Vallangi desam bought Guruvayoor Padmanabhan for 2, 22, 222 lakhs. This remains the highest tender for an elephant in the Vela till now.

List of Elephants for NEMMARA DESAM in 2013

1.Thiruvambadi Sivasundar
2.Thiruvambadi Chandrasekaran
3.Usha sree Sankarankutty
4.Anandamadam Aathinarayanan
5.Kiran Narayanankutty
6.Thiruvambadi Ramabadran
7.Nandilath Arjunan
8.Cherpulaserry Sekaran
9.Guruvayoor Kesavankutty
10.Vembanad Arjunan
11.Cherpulaserry Ayyapan

List of Elephants for VALLANGI DESAM in 2013

1.Mangalamkunnu Ayyapan
2.Mangalamkunnu Ganapathy
3.Thiruvanikavu Rajagopalan
4.Mangalamkunnu Saran Ayyapan
5.Chemuthara Devidasan
6.Mangalamkunnu Ganesan
7.Edakunni Arjunan
8.Konark Ganapathy
9.Mullathu Ganapathy
10.Paranoor Nandan
11.Bastin Vinaya Sundar