Watch Thrissur Pooram 2013 Live online streaming and telecasting on April 21

Thrissur Pooram is celebrated on 21st April 2013. It is the biggest pooram festival in Kerala. The Live online webcasting and telecasting is available on all major Malayalam websites and TV channels. Read the below article to know more on Thrissur Pooram and how to get the live actions.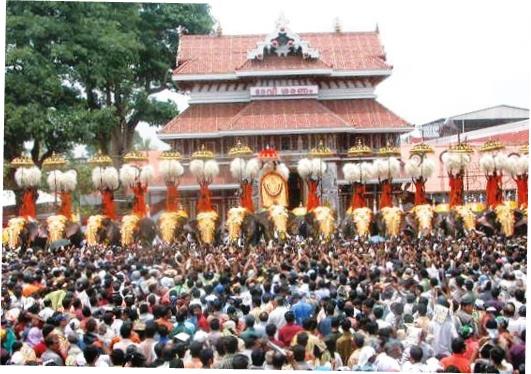 Thrissur pooram is one of the most popular and the biggest pooram festival in Kerala. It is considered as the Pooram of all Poorams (mother of all poorams). Thrissur pooram is held at Vadakkunnathan temple in Thrissur. Every year a huge crowd including tourists from different parts of the world gather here to celebrate this Pooram festival. This year (2013) Thrissur pooram is celebrated on 21st April.

The participants of the Thrissur Pooram are the Thiruvambady Bhagavathi and Paramekkavu Bhagavathi, Nethilakkavu Bhagavathi, Karamukku Bhagavathi, Ayyanthole Bhagavathi, Laloor Bhagavathi, Choorakkattukavu Bhagavathi, Chembukkavu Bhagavathi, Panamukkumpally Sastha, Kanimangalam Sastha. Chamayam. Elanjithara Melam, Kudamattom, Vedikettu (fire works) and Vida Chollall are the major events of this festival. Chamayam is a sort of dress display conducted on the previous day of the festival at venues close to the Vadakkumnathan temple in the heart of Thrissur town. Elanjitharam Melam is a musical display by some of the most experienced musicians of Thrissur and the neighboring. Vedikettu is the most exciting event. This non stop fire work lasts upto 3 hours. The most notable feature of this festival is that all people from Kerala, with no difference in caste and community, participate to make it a remarkable one.


Main events on 21st April 2013
Madathil varau at 11:00 am
Elanjithara Melam at 2:30 pm
Kudamattam (Royal Darbar) at 5:30 pm
Fireworks (22nd April) 2013 at 3:00 am
watch thrissur pooram Live

The live moments of the greatest pooram of kerala are available on both internet and television. The live telecasting is available on all major Malayalam television channels including Asianet, Kairali, Amritha and Manorama. You can also watch the live actions from your computer with a internet connection. Below are some of links from which you can get the live webcasting of Thrissur pooram.

http://www.istream.com/livetv/46/Kairali
http://www.asianetnews.tv/live-tv
http://amritatv.com/

This 36 hours extravagance ends with a spectacular fire works display which is held on the next day early morning after the pooram (on 22nd April early morning). Railways have provided one-minute halt for several trains at Punkunnam on April 21 and 22 in connection with the Thrissur Pooram. Also Kannur-Shornur (Train No 56602) passenger will be extended to Thrissur on April 21st.