Ernakulam (Cochin) District Tourist Guide – Top Attractive Places

Ernakulam (Cochin) District Tourist Guide – Top Attractive Places are given here. Ernakulam (Cochin), the commercial capital of Kerala is a beautiful coastal city which has great popularity for its best Tourist Places. This place is like a paradise and drags the tourists into the panoramic scenes with full satisfaction. For past few years Eranakulam has grown to its maximum and it is the highest income making district for Kerala.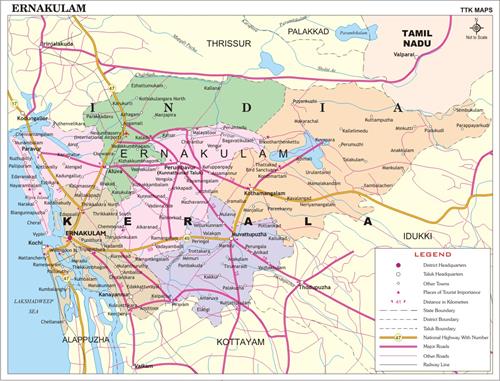 Ernakulam, the commercial capital of Kerala is a beautiful coastal city located close to the Arabian Sea. Ernakulam got its name from a very famous temple called the Ernakulathappan Temple which worships 'Lord Shiva'. Its population is 3,279,860 with 1,617,602 males and 1,662,258 females. It covers around 2408 sq.km of area with 251cm of rainfall and has an altitude of sea level having 35%, 22.5%, 32.5%, and 20% of temperature. Malayalam and English are the common languages used. Ernakulam is India's first fully literate district and got this record in 1990. It is located near Thrissur in the North, Alappuzha and Kottayam to its South and Idukki also in its Eastern part. Usually boat services between Vypeen, Alleppey, Fort Cochin, Changanashery, Quilon, Kottayam, Willingdon Island, Varappuzha, Mattancherry, Crangannore, etc. are all in for the run.

The most conducted tours are in Thekkady for running special buses to Wildlife Sanctuary for the tourists, Boat Cruise with sightseeing, Velamkanni, Coimbatore, trips between Cochin and Lakshadweep in large ships, Madurai, Munnar etc. It has 50% of flat land, 20% of mountains and 30% of water bodies. Periyar, moovattupuzha, Thodupuzha, are all major rivers and Vembanad, Kodungaloor and Varappuzha are some of the lakes. 465 sq.km of the district is covered with forest. Domestic and International Airports are situated in Cochin. Many foreigners used to visit here in order to export and import all sorts of valuable products like sandalwood, spices etc. as these are very rarely available for them. Even now, the most attractive and panoramic place for tourism in Kerala is Ernakulam and still keeps on going. Ernakulam has now become economically and financially highly developed city of Kerala.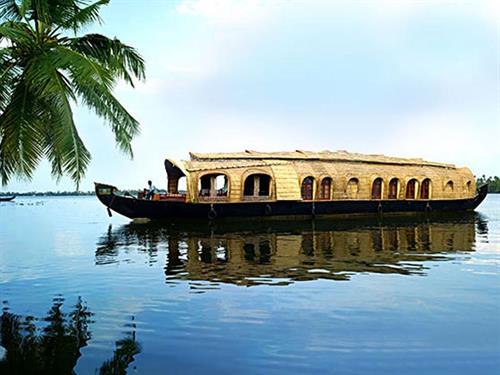 History

It is predicted that there were settlements in Ernakulam from Stone Age onwards. Carved caves, Dolmens etc. were all the monuments seen in major areas of the district. During the ancient and medieval period, Ernakulam was the Goldspot for revenue and taxes through tourism. In 1st-April-1958, Kanayannoor, Kochi, Kunnathunad, Aaluva, Paravoor, all these places which were first a part of Thrissur district started splitting to form Ernakulam district. When Idukki district was formed in 26th-January-1972, Thodupuzha was joined with it. Also Muvattupuzha got split and formed Kothamangalam. 'Chera Dynasty' had the complete power over most of the parts of Tamil Nadu and Kerala.

Due to the rapid increase in the developments and facilities, its population rose at a sudden rate. It was only 21,901 in 1911 which was the first censes done for the state. The establishment of 'Info Park' in Cochin has entirely changed the traditional phase of Ernakulam district. Cochin which is called 'The Queen of Arabian Sea' and 'The Venice of East' comprises of Ernakulam, Fort Cochin, Mattanchery, Willingdon Island and a cluster of Islands which has worldly popularity for the beautiful scenes, monuments, sanctuaries, museums etc.


Popular Tourist Places
Fort Cochin – Beach
Fort Cochin Beach may be small but it is the most popular place having large vegetation, the waves which drag us slowly to visitors dream land, peaceful atmosphere and its everlasting feeling of excitements. Tourists can reach to this Beach either by air, road or railway. But to enjoy the trip to its maximum, it is more preferable to travel by boat from the 'Boat Jetty' as to not miss the shots of the most beautiful place in Kerala. Many foreigners rather than the locals visit here to enjoy the attractive panoramic scenes and have picnic with their group. Restaurant with high quality food, Resorts, many small shops are all nearby for the tourists. But its most noticeable feature is the 'Chinese Net' at the entrance. They allow the tourists to pull the nets and they love to do such fascinating things that they can't enjoy anywhere in the Globe.



Back Water Cruise
The Kerala Back Water Cruise, studded with palm fringed island, is popular for its Kettuvellam which is a typical thatched houseboat which was traditionally used by the people of Kerala for the transportation of food and plants products. It will be a half hour trip and the tourist guides will take the visitors to all beautiful places including Alleppey backwaters. Then enjoy the traditional spicy food of Kerala along with 'Payasam', a sweet rice pudding in Alleppey. Finaly the guide takes the visitors back to their resort in Cochin. It will definitely be an unforgettable event for any tourists.



Hill Palace Museum

'The Hill Palace' situated 13km from the city at Trippunithara is the largest archaeological museum in Kerala which was built in 1865. It displays great properties and wealth of the Royal Family of Cochin which includes the majestic bed, rare paintings, Throne and Crowns of the Kings, carvings and other samples. Its landscaping covers 52 acres of lands with fountains, ponds, garden, lawns etc. and has a total of 49 building which are made traditionally only for Kerala.


Cochin Shipyard

Cochin Shipyard is one of the largest public sectors which build and maintain large ships thus Indian Navy even by providing air crafts for guarding the country. In 1972, Cochin Shipyard got approved as 'the Government of India Company'. Training for Marine engineering is also given to all students (100 students per year) in the Shipyard. M.V. Rani. Padmini was the ship that sailed first in 1981. Ship repairing was started here in 1982 including the ships of large oil industries. The O.N.G.C has presently given orders to this Shipyard and is developing steadily.


Cochin Port Trust

The Cochin Harbour and Port – Trust was a dream project of a British Engineer, Sir Robert Bristo. It is one of the largest ports which earn the maximum foreign exchange earnings in India lying on Willingdon and Vallarpadam Islands which opens into the Arabiab Sea. It was established in 1926 and has completed 86 successful years in total.


St. Francis Church – Fort Cochin

This Church was built in 1510 AD by the Portughese in Spanish architecture and is the oldest church in India. It is the first Church built by Europeans in India. In 1524, Vascodegama was buried in this place and vistors can still see his tomb here. But when it became an Anglican Church, it changed its authority to Dutch and the British.


Alwaye

Alwaye which is located on the banks of Periyar River almost 23km from Ernakulam is an Industial town which has Premier Tyre, Hindustan Insectcides, FACT, Chakola Saw Mills, Aluminium Company and many other small industries like Eloor, Kalamassery, etc. which are located between Alwaye and Ernakulam. The YMCA camp site which spreads over 1 acres of land is the perfect place for conferences, picnics, retreats and all. 'Annual Sivaratri Festival' is one of its famous attractions.


Rather than these there are lots of places for the tourists like Naval Base, Santacruz Cathedral Church – Fort Cochin, St. George Church – Edappally, Crangannore, Dutch Palace – Mattancherry, Kathakali Centres, Jewish Synagouge, and lots more. The visitors will not go back when they comes to know about these beautiful scenes.