Bhavana Upcoming New Malayalam Movies in 2013 - Complete List

Bhavana upcoming new Malayalam movies in 2013 are given in this article. Some interesting new films are lined up for the actress in Malayalam. Hariharan's 'Ezhamathe Varavu', children movie 'Myavu Myavu Karimpoocha', 'Yellow' and 'Angry Babies in Love' are her upcoming movies. Read the article to know more about Bhavana's new Malayalam films in detail.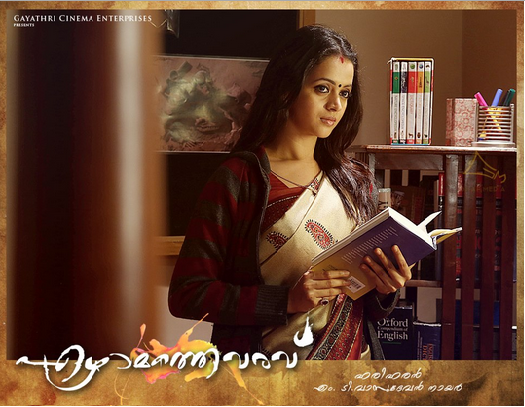 South Indian heartthrob Malayalam actress Bhavana has impressed every one with her latest performances in South Indian movies. She was seen both in performance oriented and glamorous roles in her previous films. The actress is on her way to do more Malayalam films in 2013. There are very promising projects lined up for Bhavana. 'Ezhamathe Varavu' and 'Yellow' are her favorite upcoming movies in Malayalam. These two will see the actress in matured roles with a platform to perform. Anoop Menon starring 'Angry Babies in Love' is a comedy flick from the actress. She will also appear as an important character in a 3D film titled 'Myavu Myavu Karimpoocha'. Bhavana is all set to continue her latest successes in Malayalam films in 2013 also. Read more to know the upcoming Malayalam movies of Bhavana here.


Ezhamathe Varavu
'Ezhamathe Varavu' is the one of the highly talked film of the recent times. Actress Bhavana is blessed to work with legends director Hariharan and scriptwriter M.T Vasudevan Nair. The duo had announced a movie starring Mohanlal and Mammootty in the lead role titled 'Randamoozham'. Its work will start only after they finish this movie. Therefore there is very high expectation on this film. Indrajith dons the lead role in the movie. Set in the backdrop of forest 'Ezhamathe Varavu' will be an emotional drama. Bhavana appears as Bhanumathi, Indrajith's character-Gopinath's wife in the movie. . Bhavana feels that the movie will be a milestone in her carrier. Bhanumathi is a 30 years old mature woman. Bhavana's character in this movie is entirely different from her recent avatars in Malayalam and other language movies.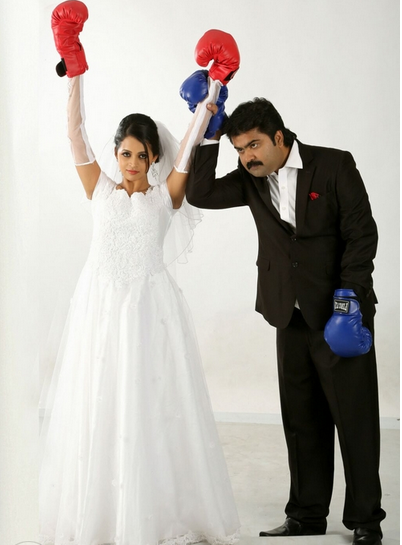 The film focuses on the relationship between human and forest. The movie is produced by the director himself under the banner of Gayatri Cinema Enterprises. Vineeth and Vinu Mohan also come in other main roles in 'Ezhamathe Varavu'. Other actors in supporting roles are, Suresh Krishna, Mamukkoya, Kavitha Nair, Mohana,Kanchana and K T C Abdullah.


Myavu Myavu Karimpoocha
' Myavu Myavu Karimpoocha' is a second 3D movie in Malayalam after 'My dear Kuttichathan'. Bhavana and Salim Kumar come in important roles in this children's movie. Master Sanjay and Master Vishnu are playing the leading roles in this film. The movie is directed by Bibin Shankar and is being produced by Mummy Century under the banner of Century Vision. The family entertainer is penned by Sanjay Surendran. The story of 'Myavu Myavu Karimpoocha' revolves around students in a U.P school. Bhavana also sings a song in the movie along with Shreya Ghoshal.


Angry Babies in Love
'Angry Babies in Love' is a comedy entertainer from Saji Surendran and team. Bhavana dons the role of one of the angry baby in the movie whereas Anoop Menon is the other one. Bhavana- Anoop Menon pair has received good acclamation from viewers when they were seen together in 'Trivandram Lodge'. 'Angry Babies in Love' has a different story. It is about two lovers making a trip to Kerala from Mumbai. On the way they realize the truth that their tastes and interests are way beyond what they had thought. These small issues lead to small fights and they cannot stay together any longer. The short fights between the couples and their love is the subject of 'Angry Babies in Love'. The movie is penned by Krishana Poojappura and story is by Anoop Menon. The shooting of 'Angry Babies in Love' is progressing and is at its final stage.


Yellow
'Yellow' is another major movie to happen in Bhavana's filmography. The actress is going to do a differently abled girl in the movie. Her character in 'Yellow' is Ami, an ardent reader, who is also deaf and mute. This is an interesting and challenging task for the actress and she has taken the project enthusiastically. The movie will also have a lorry, yellow colored, with its own significance. The movie shall have this lorry's trip from Mubai to Kochi. 'Yellow' is directed by Rajesh B Menon and is produced by the director himself under the banner of United Film Archives. The movie is planned to be a comedy thriller. Further casting of the movie has to be finalized. Now the pre-production works are going on. The movie also has three songs- one each in Malayalam, Tamil and Hindi.

Another Malayalam movie titled 'Double Decker' is also in pre-production for the actress. 'Double Decker' has Bhavana pairing with Jayasurya. The movie is directed by T S Shaji and is scripted by A. Ramakrishnan. Bhavana also has few Kannada films lined up for her in 2013. 'Ninnindale' is her next Kannada movie to be released. Telugu movies like 'Jayam Manadi' and 'Prema Nilayum' are also ready for release. 2013 has Bhavanav giving more importance to Malayalam films and let this bring good movies to the actress and Malayalam film industry.