Trichur Towers in Kerala – Facilities, services and contact details

Trichur Tower is located at Thrissur which comes with many new facilities like silver bowl, spinach facility which is limited for some time period, the volcano are the highlights of Trichur Towers. Read here about Trichur Towers facilities and contact address.


The Trichur Towers is the best holiday place to spend with family and friends. There you will get an experience of refreshing and relaxed mind set. In Trichur Towers it is fully of ayurveda and experience a peaceful yogasanas. It takes gratitude in service and it is a classy multi cuisine restaurant. The Reception is great from their respectful treatment which makes us feel at home experience. Cultural capital with great taste and the comfort zone is great to any extend provided.


Facilities and Services available in Trichur Towers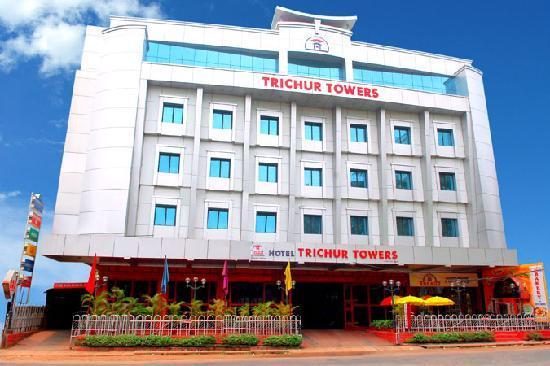 In Trichur Towers we included with many facilities and services for customers convenience like Evening parties, birthday parties venue in poolside with beach umbrella services for refreshing view and to make relaxing. For customers convenience in case of any disorders for health there is an emergency Doctors facility also available as Doctor on call services. Cultural shows are also held in Trichur Towers on request of customers. In case of power cut problems there is a standby generator is available in order to avoid inconvenience to customers.

In addition to that car parking facilities is also available whereas travel desk also available to enjoy the places in Thrichur and guides also arranged by Trichur Towers. Many features with restaurant with highly delicious foods with great in quality as 3 class style. Swimming pool also available to keep us always refreshingly and smoothing effect of yoga also experienced here. Other facilities which are available in Trichur Towers are fitness center, conference rooms, forex, Banquet hall, room services also available most important is that the whole Trichur Towers is availed with Wi-Fi facility. In addition to this many features available with it compared with other resorts.

• Doctor-on –call
• Silver-Bowl
• Standby generator
• Spinach
• Gym
• Handicrafts Shop
• Car Parking
• Restaurant
• Fitness Centre
• Travel desk
• Room service
• Wi-Fi Facilities


Restaurants

Here it is Trichur Towers Multi Cuisine Restaurant and Trichur Towers cafeteria services are a choice for snacks and beverages, those are very delicious for customer who prefer for Trichur Towers 4 Star Hotel. In Trichur Towers everything is preferable and nothing is avoidable to customers. The simple thing to say is all about to enjoy and get relaxed with Palm shore.


Around Tourist Spots

There are many tourist spots nearer to Trichur Towers some of them are wild life sanctuaries. Guruvayor Temple is near to this hotel. You can visit and many places around this Trichur Towers. These spots give you immense pleasure to enjoy with both family and friends. This is an eco-green assured and experience a peaceful atmosphere overall and this is the must visit place when we check into our "Gods Native Place".


Hotel Policies

The Trichur Towers is a 4 star style restaurant and the fulfill all needs that customer expect. They offer traditional range of food items mostly of Malaya lees style. They accept all credit and debit cards. Come and Enjoy Natures Gift once and you will surely visit again and again…


Contact Details

Thrichur Towers
TB Road, Thrissur-680021
Kerala,India
Phone:0487 2425290
Email:trichurtowers@yahoo.com