Jungle Park Resort in Calicut, Kerala - Heaven to spend your vacation

Jungle Park Resort is located at kalpetta, the north eastern tip of Kerala. This resort lies between the greenish mountains of Western Ghats, built in the traditional Kerala architecture. Read more details here.


Jungle Park Resort attracts both the Indian and foreign tourists due to its location, serene atmosphere and infrastructure. Ayurvedic treatment is provided to guests on request. The resort is well connected to the other cities of Kerala and South India by air or rail or road. It is a picturesque place for tourists who like to spend their vacation. Tree houses in Jungle Park Resort are a unique one. The tree houses are located on the NH.212-Calicut- Mysore highway, Kerala. The resort is situated in the widespread 500 acres of lovely tropical rain forest.


Tree Houses and Eco Lodges- Distinctive Features of Jungle Park Resort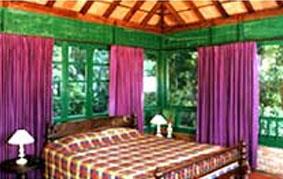 Since the Jungle park resort is situated above 700-2100m above the sea level the climate is always cool here, the temperature is always between 15-25 Celsius, which is an another feature of this beautiful resort. The tree houses of Jungle Park definitely help the tourists to enjoy the beauty of the nearby hills. The tourists can have a charming look of surrounding hills and valleys from the tree houses. The fame of tree houses and eco lodges were covered by many popular magazines and TV Channels. The tourists can enjoy the misty air, rich vegetation in resorts. Care has been taken in designing these tree houses and eco lodges without disturbing the nature.


Facilities in Jungle Park Resort

The resort includes cozy cottages, villas, 36 cover restaurants, indoor recreation hall, 75 seat conference hall, reception, lobby and administrative office. There is a well known attractive open lobby called Charupady.


Recreation in Jungle Park

The resort also makes the sports lovers happy by providing outdoor and indoor game facilities like volley ball, shuttle, Chess and Carom apart from other recreation facilities. . The fintser hills have got many places to visit. The tourists would love trekking in to the hills. The flora and fauna that is available only in Fintser Hills would be a feast to the visitors. The perennial streams and natural wading pools would surely refresh the mind of tourists. The resort assures enjoyment round the clock to its visitors by providing pony trekking, hill walk and night camping. The elephant safari would definitely make the children happy. Jungle safaris can be arranged afters getting permission from the state government.


Nearby Places to Visit

People who love to go for trekking, long walk and nature lovers will find difficult to depart the resort because there are many nearby greenish places like Edakkal Cave Wayanad, Soojipara waterfalls, Kuruva Island etc., which are treasure of the nature. There are temples as well for the devotees. The Thirunelli temple is located near to the resort. The other remarkable places are Ambalavayal tribal museum and local community craft village. The plantation tour to coffee estates, pepper, tea cardamom plantations and tribal villages may be arranged on request.


Nearby Cities to Visit

Mysore and Brindavan gardens are located only 140 km from Jungle park. Calicut city, that is also called as commercial capital of Malabar itself is a traditional and historical monument to visit. People who wish to spend their vacation with family or friends in an ambience place can come to Jungle Park to rejuvenate themselves in nature.


Accommodation and Price

• All rates for one night
• Check in 12 noon & Check out - 11 Am
• AP rates include Accommodation, Bed tea, Breakfast, Lunch, Evening
tea, Dinner. Taxes will be charged extra as applicable.
• Free accomodation for two children less than 5 years old (without out extra mattresses)
• Package start with Lunch and ends with Breakfast.
• Lunch/Dinner @ Rs. 225/- plus tax (ST) @ 7.5% for walk in guests only
• Rates subject to change without prior notice.



Address and Contact Detail for Jungle Park

Reservation and Administrative Office:
Jungle Park Resorts:
House No.A.52
Vrindhavan Housing Colony
Chevayur
Calicut
Kerala
India
Pin: 673017
GSM: +91-9744465458
Ph: +91-495-6521163