Village extension officer (VEO) exam syllabus 2014

Kerala PSC Village extension officer (VEO) exam syllabus 2014 is given here. The detailed syllabus will help the candidates to make well research before entering the exam hall. The Kerala PSC Village extension officer (VEO) exam is being conducted in 14 districts. To be conducted in three phases, more than 6 lakh applicants with dream to work with the Kerala government have submitted applications.


The Kerala Public Service Commission (KPSC) which has fulfilled the dream of hundreds of youngsters is known for its credibility and transparency in conducting exams during regular intervals. As most of them wish to get supreme jobs, the exams get tougher giving an opening only for the best candidates to reach the top spot. Well reputation and good remuneration are the prime reason for the gigantic interest to work in government sector.

As Village extension officer (VEO) is one of the most demanded job, there had been high interest from the part of the young job seekers. As more than 6 lakh candidates applied for the exam, it makes clearer that, the passion of people to work in the rural sector is overwhelming.

In 2014, the Kerala PSC has planned to conduct the Village Extension Officer (VEO) exam for the 14 districts in three schedules. With the first phase over, exams for Kollam, Alappuzha, Thrissur,Malapuram, Kasargod will be held on 21st June 2014 as the second schedule. The third phase of exam for Ernakulam, Pathanamthitta, Palakad and Kozhikode districts is scheduled for 5th July.


Village extension officer (VEO) exam syllabus

Have a quick look at the major topics from the Kerala village extension officer exam (VEO) 2014.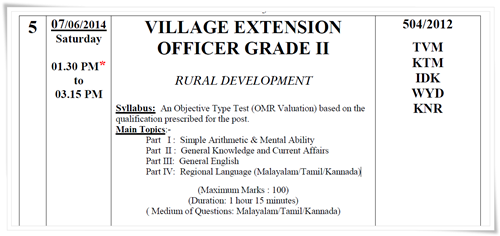 Part I: Simple Arithmetic & Mental Ability


Part II: General Knowledge and Current Affairs


Part III: General English


Part IV: Regional Language (Malayalam/Tamil/Kannada)

Simple arithmetic includes quantitative aptitude, mental ability and test of reasoning. Question related to simplification ratio, percentage, logic-coding and decoding can be expected. A general awareness about the historical facts about the country along with its economic and physical features is needed.

Questions from important world, national and regional events are mostly asked for the exam. It is very important to cover the topic 'Renaissance of Kerala' giving preference to the events, movements and leaders. In the general English section, questions from Direct and Indirect Speech, Active and Passive Voice, Correct usage of Articles, Idioms and their meanings can be asked. The Kerala village extension officer exam (VEO) exam will of 100 marks with 1 hour 15 minutes as the time duration.

A systematic learning and burning desire to clinch the opportunity will give the perfect reward. So without losing heart, hold your confidence and have a close learning.