Malayala Manorama Thozhilveedhi 19th July 2014 issue now in stands

Malayala Manorama Thozhilveedhi 19th July 2014 issue (14th July - Today) is now in stands. To read the latest issue of Malayala Manorama Thozhilveedhi dated 19 July 2014, just buy a copy from your local book vendor. Thozhilveedhi from M M Group is one of the leading employment weekly featuring updated news on arising opportunities in public and private sectors.


Malayala Manorama Thozhilveedhi, one of the leading employment newspaper in Kerala has published its 12th July 2014 edition. As done previously, the current issue of 'Thozhilveedhi' is packed with a bunch of opportunities for the job seekers. The highlights of this issue are the arising vacancies in Air Force, BSF constable notification, UPSC and SSC notifications, exam coaching of Last Grade, SI, Excise Inspector, Assistant Jailer, Excise Guard, Co Operative Service exam board and SBI exam practice prepared by TIME. Prospects from various Universities, Colleges and Schools are also reported.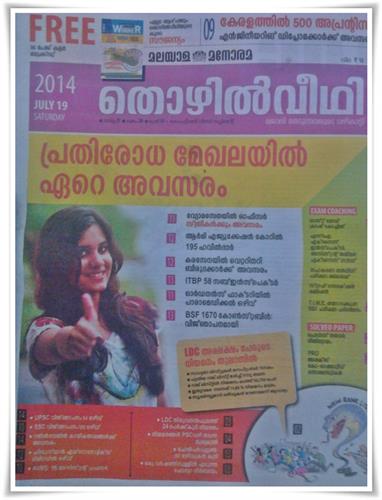 While going through the pages, vacancies for women in Air Force, 195 Havildars in Army Education Core, opening for degree holders Veterinary jobs in Army, 58 Sub Inspector vacancies in ITBP, Paramedical posts in Ordinance Factory and 1670 constables in BSF would facilitate people with desired qualification to apply for the posts. Other rising vacancies are in UPSC, SSC, Railway, Hindustan Aeronautical limited and 96 Assistant Professor in AIIMS.

Solved papers of Kerala PSC Processor Server, Judiciary and PRO Apex Co –Operative Societies are published in this issue for reference. Special crash coaching for Last Grade, SI, Excise Inspector, Assistant Jailer and Excise Guard would be beneficial for candidates who are preparing for the exam which is being scheduled to conduct in August 2014. As usual the exam coaching for SBI exam by Time Institute is continued in the 19h July 2014 issue too.

General Knowledge questions on various topics will give an insight to candidates who are looking forward for a hardcore training. Job seekers can best use this issue of 'Thozhilveedhi' to apply for suitable employment vacancies depending upon their aptitude. This employment news weekly has already found its place in the heart of millions of youngsters. 'Thozhilveedhi' is considered to be an effective platform for job vacancies and career training. With top priority given by the job seekers in Kerala, 'Thozhilveedhi has a circulation of more than 1 lakh prints.

As this employment news weekly has changed the life of many young people, this issue of 'Thozhilveedhi' is referred to those who wish to get a job with the Kerala government.