Malayala Manorama Thozhilveedhi 2nd August 2014 issue now in stands

Malayala Manorama Thozhilveedhi 2nd August 2014 issue (28th July - Today) is now in stands. To read the latest issue of Malayala Manorama Thozhilveedhi dated 2 August 2014, just buy a copy from your local book vendor. Thozhilveedhi from M M Group is one of the leading employment weekly featuring updated news on arising opportunities in public and private sectors.


Malayala Manorama Thozhilveedhi, one of the leading employment newspaper in Kerala has published its 2nd August 2014 edition. The current issue of 'Thozhilveedhi' is packed with a bunch of opportunities for the job seekers. The highlights of this issue are the arising vacancies in Kerala Gramin Bank, CISF, Masagon Dock, SBI, Air India, ONGC and Ordinance Factory.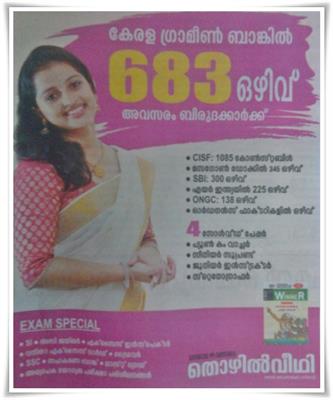 4 solved papers and Crash coaching for Last Grade, SSC, SBI, Cooperative Service Society, K –TET, C-TET, K-TET and SET exams have also got featured in this issue. Prospects from various Universities, Colleges and Schools have also found place in the current edition.

Going through the pages, 683 vacancies in Kerala Gramin Bank, 1085 Constables in CISF, 345 opening in Masagon Dock, 300 in SBI, 138 in Air India, 138 in ONGC and job opportunity in Ordinance Factory is also reported. Solved papers of Kerala PSC exams like Peon cum Watcher, Senior Suprend, Junior Inspector and Stenographer are published for reference.

Special crash coaching for upcoming SI, Ad.Jailer Excise Inspector, Women Excise Guard, Driver, SSC, Cooperative Bank, Last Grade, Teachers exams (K –TET, C-TET, K-TET and SET) would supplement the candidates who are currently undergoing preparation. Candidates can download the hall tickets for the last grade exam to be conducted in September from 30th August.

As usual special focus is given to General Knowledge as it is one of the prominent part of the all exams being conducted by the Kerala PSC. 'Thozhilveedhi' can be wisely used to gather information and also to know about the rising vacancies. As the application methodology is also described, readers can get valuable guidance to fill the forms.

More than being an employment newspaper, 'Thozhilveedhi' is now considered as a companion of many youngsters who wish to build up their career. 'Thozhilveedhi' is an effective platform for job vacancies and career preparation. With a circulation of more than 1 lakh prints, this weekly employment newspaper is widely read by young people in Kerala.

So can you leave the current issue of this employment newspaper? Grab 2ndth August 2014 issue of 'Thozhilveedhi' from your nearest book vendor and grab your dream job.