Maramkothy: A movie with the smell of nature

Maramkothy (Maramkothi) malayalam movie written and directed by debutante Baby Thomas revolves around the life of a group of people who fight for land and nature. Sreejith Ravi plays the title role while the star cast is supported by Tini Tom, Mamukkoya, Indrans, Kochupreman, Jayan, Poojitha Menon, Chali Pala, Kulappulli Leela, Rinu Raj, Sathakumari, and Jeeja Surendran. 'Maramkothy' is being produced by Francis Christy Boy under the banner Wood Pecker Productions. For the lyric of Baby Thomas, the tunes ar


Having an experience working behind the screen helming various short films and documentaries, Baby Thomas, much known for his short stories is gearing up to reach his debutant venture to theatres.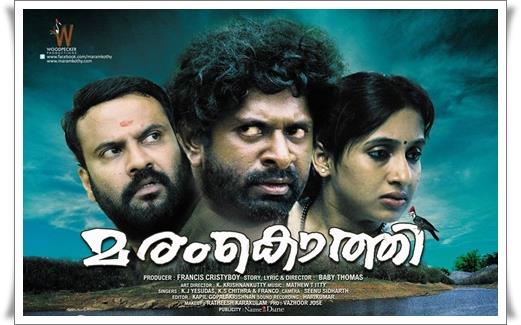 Set in the period of Indian Independence, the movie titled 'Maramkothy' revolves around the life of a group of people who fight for land and nature. After the British left the country, the land went into the clutches of the landlords. They crushed the life of many and even made the locals their slaves.

Due to the inhuman practices, many were forced to leave their land which included a 5 year old boy and his family. 'Maramkothy', who returned to his native soil after a long period could not cope up with some unnatural incidents. He had to face some challenging situations and even lost love from dear ones. Finally he decided to confront the circumstances and fight against the odd. The movie which is creamed with love, lust, revenge, nature and human bond would be a visual treat to be experienced by all generation moviegoers.

Sreejith Ravi plays the title role 'Maramkothy' in this movie while Tini Tom gives life to Shakthan Thampuran. Poojitha Menon will be seen as Priyamvadha Thamburatti who belongs to a Namboothiri Tharavadu. Kambilikandam Gracy(Sonia Mano), Marutha Maria (Kulappulli Leela), Mamukkoya, Indrans, Kochupreman, Jayan, Chali Pala, Rinu Raj, Sathakumari, and Jeeja Surendran would be seen in prominent roles.

Maramkothy' is being produced by Francis Christy Boy under the banner Wood Pecker Productions. For the lyric of Baby Thomas, the tunes are set by Mathew Y Itty. The movie was completed in two schedules with Kattappana, Anjurali, Mattapally, Raghavankanam, Thoppippala, Ayyappankovil, Ponmudi and Rajakad. The songs were picturised at Palode Brimoor in Thiruvanathapuram.

Even the crew had to go through various problematic situations; the shooting got completed with the full support of the forest officers and local resident. The title song of the movie is sung by Franco. The songs which are choreographed by Rekha Master would give a delightful experience for the movie enthusiasts.