Vanitha Magazine 16 - 30 September 2014 Issue Published

Vanitha malayalam magazine 16 to 30 September 2014 2nd edition featuring Manju Warrier on cover is now available. Even though Vanitha magazine 16 – 30 September 2014 Volume 1,2 /Part 1,2 free online reading is not practical, you can read the digital version by paying money. The highlight of 16- 30 September 2014 issue of Vanitha is interviews with Manju Warrier, Aju Varghese, dubbing artists Aliyar, Bindhu and Sreerpiya.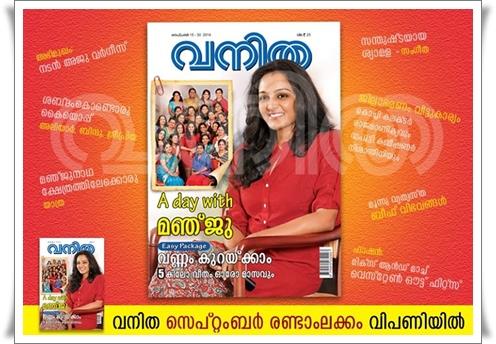 Vanitha, which is much popular among the reading community, has become the most trusted family magazine for its innovative approach in content delivery. This magazine is widely read by people who which to follow the modern life style. Being a publication from the house of Malayala Manorama, Vanitha is exclusively designed to cater the need of all generation people.

The 16- 30 September edition of Vanitha featuring Manju Warrier on cover cover page have been published. The highlights of the second volume of September 2014 issue of Vanitha are the interviews with with Manju Warrier, Aju Varghese, dubbing artists Aliyar, Bindhu and Sreerpiya. Exclusive talk with Kochi Collector Rajamanikyam and Deputy Commissioner Nishanthini are featured in the 16 to 30 September 2014 issue.

Richly packed with interesting contents, the current edition would deliver a reading delight for all. In an exclusive chat for Vanitha, actress Manju Warrier opens her heart to a gathering of selected women. She calmly gave reply to their questions and doubts regarding her filmy career, interests and future life. Her inspiring words truly gave motivation to the young congregation. Readers would get a rare chance to know about Manju, more than an artist.

A journey through the Manjunatha temple would create a different atmosphere. Manjunatha is related to Shiva and Kadri which is derived from Kadri Vihara which was a Buddhist monastery of Vajrayana cult. Historical discoveries and enchanting stories about the temple will keep the interest high. Young actor Aju Varghese talks about his journey to stardom. Aju who made his acting debut through 'Thattathin Marayathu' has gone far getting character roles in various movies. He shares his acting experience and road to the comfortable zone.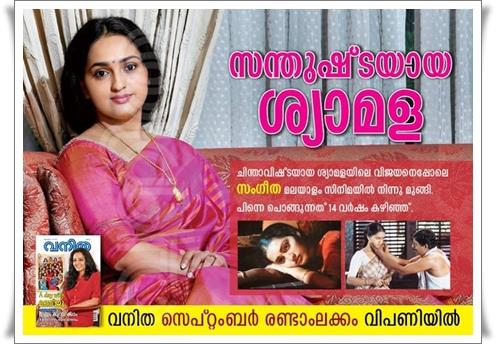 Ernakulam District Collector M G Rajamanikyam and his wife Ernakulam DCP R Nishandhini who are Tamilains by birth but have already become a part of the Kerala and are loved by the malayali community living in the state. Their personal characters and interest in solving the social problems have already been accepted. They too share their thoughts and challenges ahead.

Dubbing artists Aliyar, Bindhu and Sreerpiya who are much popular through their voice, speak about the career and hurdles in life. Sangeetha who become a favourite actress through her role in 'Chinthavishtaya Shayamala' makes a comeback after 14 years. 'Western Outfits' with exclusive photographs of trend setting dresses are featured in the latest edition of Vanitha. Also find variety Beaf recipes to make your dinning yummy. An array of articles on Onam and other stories and featured in this issue.

Having a circulation of more than 7 lakhs copies, Vanitha also covers topics various topics articles on kids care, Style & Trendy, Astrology, Travel, and Health. Vanitha is highly treasured and read by celebrities during their pass time. Printed in multi coloured pages, 'Vanitha' is highly recommended to people who wish to stay young and wish to be the change.