Vanitha magazine 16- 31 August 2014 issue now in stands

Vanitha malayalam magazine 16 to 31 August 2014 2nd issue (edition) featuring Keerthy Suresh and Parvathy Menon is now available. Even though Vanitha magazine 16- 31 August 2014 Volume 1 & 2/Part 1 & 2 free online reading is not practical, you can read the digital version by paying money. The highlight of 16 – 31 August 2014 issue of Vanitha will be the interviews with actress Abhirami, Usha Uthup, G Vijayaraghavan and much more.


Vanitha, the most celebrated family magazine, a publication from the house of Malayala Manorama is known for its innovative content. Exclusively designed for the present generation women, the 16 – 31 August 2014 edition of Vanitha featuring Keerthy Suresh and Parvathy Menon on cover pages have been published.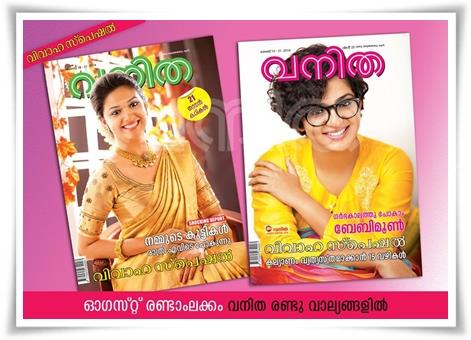 The highlight of 16 – 31 August 2014 issue of Vanitha will be the interviews with actress Abhirami, Usha Uthup, G Vijayaraghavan and other interesting stories. In an exclusive chat for Vanitha, actress Abhirami who makes a reentry into the tinsel town after 10 years reveals her family life and upcoming movies.

Abhirami who has given life to a number of characters is excited to play matured roles in her movies. After donning a prominent role in 'Appothicary', the actress is busy with the shooting of 'Driver on Duty'. Popular singer Usha Uthup shares thoughts along with her daughter Anjali and granddaughter Aisha.

Deep from the heart, Planning Commission board member G Vijayaraghavan opens his mind to share about his life with his wife and mthree chiidren. The chit chat with the Vijayaraghavn will enable the readers to gather more strength during problematic situations. Exclusive article and photographs of new designer sarees will take the readers to the next world.

Young music director Gopi Sunder speaks reveals some untold stories during his musical journey. Various tips to have a perfect look and bringing innovative concept in making a total revamp has also featured. An article of 'Baby Moon' will give insight to those who wish to keep the mind and body fresh during pregnancy. As it is marriage special issue, an exclusive article on the preparation made by the family to welcome the guests and their activities are given in detail. This issue takes the readers to an insightful article about the acts made by the present generation.

An investigation reveals about the unwanted acts and illegal journey of the youngsters to clubs and Night parties. The hormonal changes that happens during Adolescence and middle age along with the precautions to solve it is well described. Recipes of 21 different food stuffs make the August edition of Vanitha sweet and crispy. Added to these, other regular features will give the best for the readers.

With a circulation of more than 7 lakhs copies, Vanitha has become a part of the malayali community living all over the world. Articles including kids care, Style & Trendy, Astrology, Travel, and Health are also found in this issue of Vanitha. It is also highly treasured and read by celebrities during their leisure time. Printed in multi coloured pages, 'Vanitha' is recommended for those who wish to stay young and get updated about the changing world.