Vanitha magazine 16- 31 July 2014 issue now in stands

Vanitha malayalam magazine 16- 31 July 2014 issue featuring Navya Nair is now available. Even though Vanitha magazine 16- 31 July 2014 issue free online reading is not practical, you can read the digital version by paying money. The highlight of 16 – 31 July 2014 issue of Vanitha will be the interview with actress Navya Nair, Namitha and actor Anoop Menon.


Vanitha, the most celebrated family magazine among the malayali community all over the world has published it latest edition. Designed to perfection for the present generation women, the 16 -31 July 2014 issue featuring Navya Nair on cover is currently available in the market. The highlight of July 2014 second issue of Vanitha will be the interviews of actors Navya Nair, Namitha, Sai Kumar and Anoop Menon.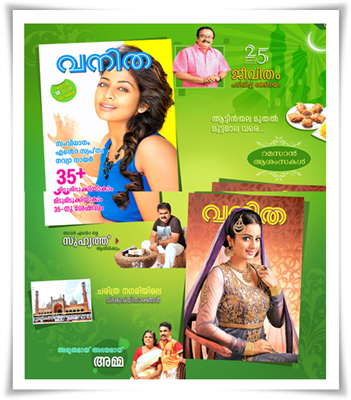 Actress Navya Nair who made a comeback with the remake of 'Drishyam' opens her minds to the readers. She speaks about her dream to become a filmmaker. Kavya reveals her family life and acting career with the readers in an exclusive chat organized by Vanitha magazine. Actors Namitha, Sai Kumar and Anoop Menon have also given time to share their thoughts and views.

Sai Kumar discloses his 25 years of acting experience and the tough time which happened in his life. Young actor Anoop Menon speaks on his dream girl and his care to her. Standing at the top of his acting career, Anoop Menon tells more about his struggling days and the way to stardom.

An article titled 'Do girls fear marriage?' will give an insightful survey on the women community and their anxiety about marriage and post marriage period. An exclusive feature on mentally strengthened thoughts by women against human trafficking will make the readers intact. Special attraction would be the Ramadan thoughts shared by Islamic religious leaders. An interesting article on 'how to become smart after 35' specially written for curious readers can bring positive results.

Other regular features and Ramadan special recipes will make the readers to reap the best from the time invested for reading the magazine. With a circulation of more than 7 lakhs copies, malayalis cannot miss a single issue of this magazine. Articles on kids care, Style & Trendy, Astrology, Travel, and Health can also be found in this issue of Vanitha. As one of the most favourite magazine among the family readers, the contents of Vanitha is highly appreciated and read by celebrities even during their busy schedules.

Printed in multi coloured pages, 'Vanitha' designed with perfection it is not strictly a women's magazine but widely read by men also. The magazine which comes at an attractive price tag is recommended for those who wish to stay young.