Vanitha Magazine 16 - 30 October 2014 Issue Published

Vanitha malayalam magazine 16 to 30 October 2014 2nd edition featuring Swetha Menon on cover is now available. Even though Vanitha magazine 16 – 30 October 2014 Volume 1, /Part 1 free online reading is not practical, you can read the digital version by paying money. The highlight of 16- 30 October 2014 issue of Vanitha is exclusive interview with actor Asif Ali, wife Zama Mazreen and son Adam Ali, Pandalam Balan, actress Tessa, Anil Radhakrishnan Menon, 'Fashion Trends', 'Youth and Sex' and 'Sex Life'.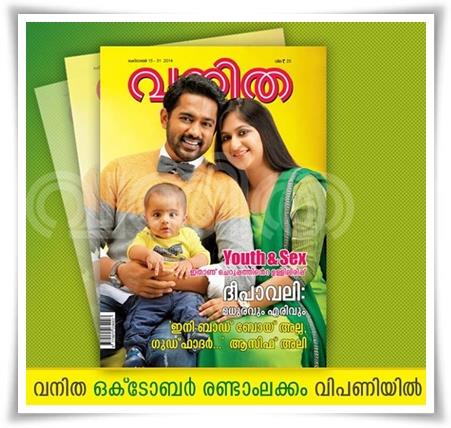 Vanitha, topmost women's magazine published exclusively for the malayali community is much celebrated for its novel approach in content delivery and innovative features. Coming from the most trusted publishing house Malayala Manorama, this magazine is exclusively designed to cater the need of people of all generations.

The 2nd edition of Vanitha featuring actor Asif Ali and Family on cover page have been published. The highlights of the second volume of October 2014 issue of Vanitha are the interviews with exclusive chat with actor Asif Ali and Family, Pandalam Balan, actress Tessa, Anil Radhakrishnan Menon, 'Fashion Trends', 'Youth and Sex' and 'Sex Life'.

The current issue of Vanitha is ornately packed with interesting contents which would deliver a pure reading delight. In an exclusive chat, actor Asif Ali shares thoughts on his acting career and family life. Readers will be getting a rare chance to know more in details about Asif Ali, Zamana and son Adam Ali. Asif, the heartthrob of millions rightly engages with the readers through his words.

The life journey of few youngsters who have ventured into business after leaving a comfortable job would enlighten many people who think about success and triumphs. Stories of Happy Journey Travels owner Jyothi Nair, Men behind Global Circus Sherith and Shenil, Pappadavada restaurant proprietor Meenu Amal, Vellarikkapattanam administrator Cherian Thomas are featured in this issue. Yathra Sheff owners Arun and Rameez also share their adventurous journey to success.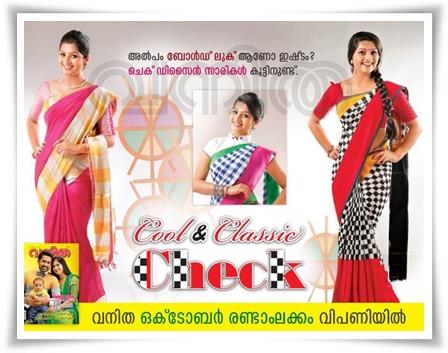 'Healthy Kitchen' brings out various ways to bring back health through Kitchen tips. Regular columns like 'Chiri Muthukal', 'Beauty Spot'are also seen in the current issue of Vanitha. In the fashion section, Cool & Classic Check designs are given with prominence. Model Indu Nambiar is dressed up in classic stylish sarees.

'Deepavali' special recipes, interviews with actress Tessa, filmmaker Anil Radhakrishnan Menon and Singer Pandalam Balan are also featured in the latest issue of Vanitha. 'Sex & Life' handed by Dr. Rajana Kothari is one of the well read section which gives tips to develop better sex life. The author has tried to focus on giving positive messages and importance of friendship.

Having a circulation of more than 7 lakhs copies, Vanitha also covers articles on various topics including kids care, Style & Trendy, Astrology, Travel, and Health. This magazine is considered to be highly treasured and read by celebrities. Printed in multi coloured pages, the 16 to 30 October edition of 'Vanitha' is highly recommended to readers.