Vanitha Magazine 16 - 30 November 2014 Issue Published

Vanitha malayalam magazine 16 to 30 November 2014 2nd edition featuring Mammootty on cover is now available. Even though Vanitha magazine 16 – 30 November 2014 Volume 2, /Part 2 free online reading is not practical, you can read the digital version by paying money. The highlight of 16 - 30 November 2014 issue of Vanitha is exclusive interview with Mammootty, Joju, Anoop Menon – Shema Alexander marriage news, journey through temples, 'Star Girls in 20' and 'Sex Life'.


Vanitha is the most popular women's magazine among the malayali readers who keep it close to their heart. The success of this magazine is the innovative approach in content delivery and inventive features. Published by the most trusted publishing house Malayala Manorama, Vanitha is exclusively designed to enrich the reading habit of all generations.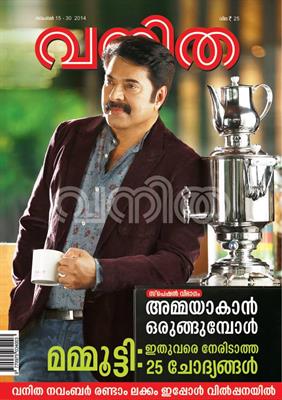 The November 2nd edition of Vanitha featuring actor Jayasurya and Family on cover page is currently available at newsstands. The highlights of the second volume of November 2014 issue of Vanitha are the exclusive chat with actor megastar Mammootty, Jou Anoop Menon – Shema Alexander marriage news, journey through temples, 'Star Girls in 20' and Life in the Magic Planet.

The most recent edition of Vanitha is richly packed with interesting contents for the malayali community which would provide them a pure reading delight. In an exclusive interview, actor Mammootty answers to the 25 questions asked in behalf of the journal. The star actor who has been entertaining the world for the past 3 decades shares his thoughts and views about life.

An exclusive journey into the 'Magic Planet' situated in Thiruvanthapuram will be visual delight for the readers. Being established for the good will of magic, the new venture has already attracted many people. Arayankavu Dharma Shathra Temple, Achankovil Shasthra, Kulathupuzha Shastha Temple and Shabarimal Ayyappa Temple are featured in the new issue of Vanitha. Actor Joju opens his mind and shares his experience with film industry and family life. Prominent writer Anitha Nair talks about her home.

In the Cookery section, innovative recipes like Fried Idilli, Fish Cutlet and Chicken Pai are featured. In 'Star Girls in 20', articles of actress Alia Bhatt and Parineethi Chopra are given in detail. Regular columns like 'Chiri Veedukal', 'Beauty Spot' are also featured in the current issue of Vanitha. In the 'Healthy Kitchen', Dr B Padmakumar gives healthy tips to lead a comfortable dine. 'Sex & Life' handed by Dr. Rajana Kothari is one of the well read section provides tips to develop better sex life. The author has tried to focus on Gulf Syndrome in this issue.

Vanitha also covers articles on various topics including kids care, Style & Trendy, Astrology, Travel, and Health. This magazine is highly treasured and read by celebrities and other well accepted people. Printed in multi coloured pages, the November 2nd edition of 'Vanitha' is truly recommended to readers.